Paris, 30 June 2022
"Mr. President, we were delighted at your election to a second mandate," stated the Wiesenthal Centre's Director for International Relations, Dr Shimon Samuels... "We are also aware that the Parliamentary election results will require tough negotiations with the opposition."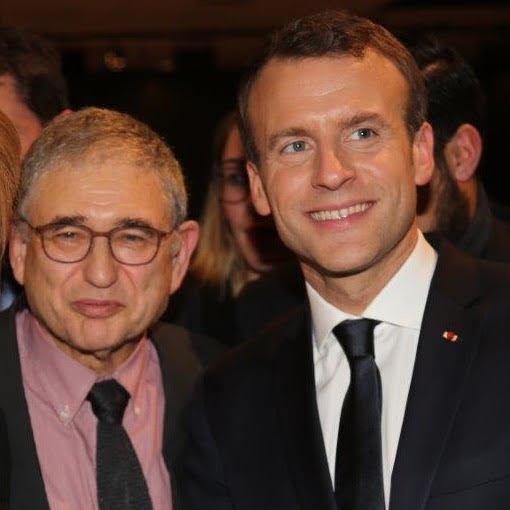 Samuels with President Macron (photo Alain Azria).
"As leader of the European Union (EU), you have just participated in the G7, which is normally a forum to discuss financial and economic issues. Of course, this was also the occasion to tackle the economic challenges of Russia's war in Ukraine and the possible countermeasures."
"However, another matter represents a grave danger, the aim at defusing tensions and opening a new negotiation with Tehran, regarding the so-called 'Iran nuclear deal' or JCPOA."
"We understand your deep concern for the four French nationals – anthropologist Fariba Adelkhah, blogger Benjamin Brière, teacher Cécile Kohler and her companion Jacques Paris... detained by the Iranian regime on spurious charges of espionage. The blackmail for them and the other European citizens used as hostages cannot be in exchange of raising sanctions, nor for the purchase of Iranian oil and gas."
"Mr. President, we have called upon Josep Borrell Fontelles, EU High Representative for Foreign Affairs and Security Policy, to recall the role of Iran as the main patron of many groups on the EU terrorist list, from Hezbollah to Hamas... but also the Houthi movement and the same Iranian Revolutionary Guards Corp (IRGC), that carries out clandestine operations worldwide."
"The JCPOA concerns the danger of nuclear proliferation, but does not cover the threat represented by Iran's ballistic missile programme, that aims at reaching Israel as well as the entire European continent."
"Moreover, Iran acts as a pirate state when it attacks tankers in the Strait of Hormuz, disrupting oil transit and spiking prices worldwide."
"Through the IRGC, Tehran is also actively supporting the Assad regime in Syria, bridging the gap towards Lebanon – in view of further destabilizing this country through Hezbollah – and seeking a foothold on the northern borders of Israel."
"We recall the Interpol international arrest warrants (Red Notices) for five Iranian officials, suspects in the July 1994 Buenos Aires AMIA Jewish Centre bombing, that left 85 dead and over 300 wounded. Since then, the footprint of Iran – including Hezbollah and IRGC sleeper cells – can be found through at least nine countries across Latin America... their main conduit allegedly being Maduro's Venezuela."
"Mr. President, to lift sanctions would result in a terror bonanza, dictated by Tehran, encompassing the Europe Union and its allies worldwide."
"Most respectfully," concluded Samuels.