Paris, 10 August 2021
Reportedly, a 39 year-old Rwandan refugee admitted setting ablaze the Nantes Cathedral last year, in July 2020. Sent to a psychiatric ward, he was released – apparently under probation awaiting trial – into a nearby Catholic monastery, in the charge of a 60 year-old priest, Fr. Olivier Maire, whose body was found in a nearby village this Monday.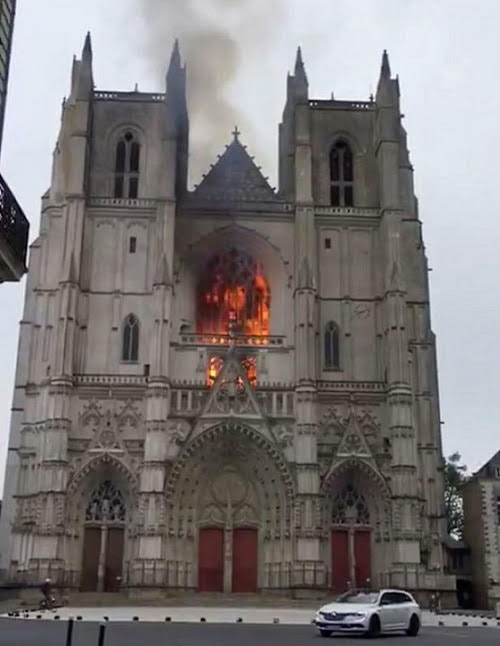 The Nantes Cathedral set ablaze in July 2020 (photo Ludovic Stang/Reuters).
The Centre's Director for International Relations, Dr. Shimon Samuels, noted: "In the case of Sarah Halimi, her neighbour murdered her while screaming 'Allahu Akbar'. He was sent to a psychiatric ward and exempted from a proper trial on grounds of incapacity and lack of responsibility, because under the influence of drugs."
The Centre asks: "In the case of Fr. Maire, the question is, why had his murderer not been sent already to jail for the admitted arson of the Cathedral?"
This attack on Catholic clergy recalls the 2016 slitting of the throat of another priest, Fr. Jacques Hamel, celebrating Mass in a church in Normandy. In that case, the two assassins were members of ISIS, the Islamic Caliphate.
"Interior Minister Darmanin has a hefty task in containing the forces of hate in France," concluded Samuels.
* * *
"My cause was justice, not vengeance. My work is for a better tomorrow and a more secure future for our children and grandchildren." (Simon Wiesenthal, 1908-2005)