"He has evaded justice for 38 years... longevity is not an excuse for impunity... as families of victims and survivors deserve closure."
Paris, 11 September 2020
In a letter to Norwegian Prime Minister, Erna Solberg, the Simon Wiesenthal Centre Director for International Relations, Dr. Shimon Samuels, commended "the Norwegian Police for the arrest of one of the three suspects in the 'Abu Nidal Organization' terrorist attack of 9 August 1982 on the Goldenberg restaurant of Rue des Rosiers, in the Jewish quarter of Paris, leaving six dead and twenty-two wounded."… "The attack with machine guns, pistols and grenades came at 1.15 pm in a restaurant seating over fifty diners… Recent attempts to extradite to France the two other suspects were rebuffed by their Jordanian sanctuary."
The letter described the assault as "the last of 73 shootings and bombings against Jewish targets across Western Europe, 29 of which in France."
Samuels explained that "an Israeli incursion into Southern Lebanon in 1982 resulted in European terrorists and their trainers fleeing Palestinian training camps, and returning to their countries of origin. Once home, their subsequent attacks on banks, officials and embassies led governments to crack down... In France through the Vigipirate security alert programme. Indeed, as our mentor, Simon Wiesenthal, would say, 'What begins with the Jews does not end with them'."
The Centre recalled how "Norway has been targetted by lone wolf terrorism, especially in the 22 July 2011 massacre in Oslo and Utoya, where 77 were killed and over 300 wounded – mostly young people – by the far-right murderer Anders Behring Breivik. The families of the victims and of the survivors deserved closure through the trial that ensued."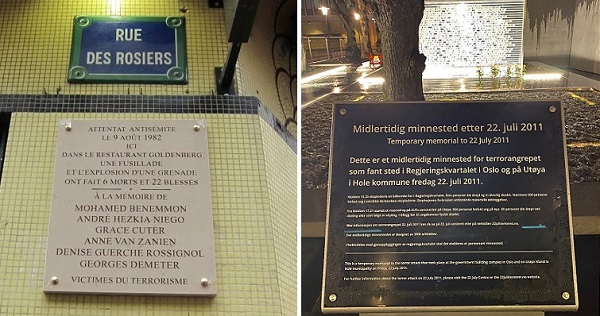 The Memorial plaque in Paris (europe-israel.org) and the Memorial in Oslo (tripadvisor.com/jul1407).
Samuels told of his "close friend, the late AFP correspondent, Michael Adler, who was an eyewitness to the Goldenberg restaurant massacre." He was later informed that "following the attack, a 'verbal deal' was struck by French intelligence, the DST, with the Abu Nidal terrorist group: to the effect that 'they could enter France as long as there were no further attacks on French soil'. Without a reliable source, we dismissed such an outrage as, what is known today as fake news… Yet, two years ago, the 'deal' was admitted in an interview with then head of the DST, Yves Bonnet."
"Walid Abdulrahman Abu Zayed has evaded justice for 38 years. Evoking Wiesenthal's credo on war criminals: 'longevity is not an excuse for impunity'."...The Rue des Rosiers families of victims and survivors deserve closure... France has requested Abu Zayed's extradition under a European Arrest Warrant. His transfer to Paris should take only a few weeks to arrange between two fellow democracies," argued Samuels.
The Centre urged the Prime Minister "to endorse this extradition and ensure that this case not become viewed as 'Justice delayed, Justice denied'."
The letter was shared with French President, Emmanuel Macron.