"If there had only been the kosher supermarket attack, would millions have marched and over fifty world leaders convened in Paris?"
"On the ground floor of the Hyper Cacher supermarket, there were young Islamists killing four Jews. In the basement, a young Malian Muslim paperless migrant was hiding 15 Jews in the huge refrigerator. Lassana Bathily then got out of the building to help the police in their rush on the terrorists."
Paris, 2 September 2020
Today begins the trial in Paris of 14 accomplices in the 2015 murderous assault on the Charlie Hebdo satirical weekly along with the kosher supermarket which resulted in 17 dead over three days. Most of the perpetrators perished in the ISIS Caliphate or are in hiding.
"Herein hangs a question: If there had only been the kosher supermarket attack, would millions have marched and over fifty world leaders convened in Paris? Surely not, it would remain one more in the litany of Toulouse, Brussels and so many more Jewish targets in the last five years," argued the Simon Wiesenthal Centre Director for International Relations, Dr. Shimon Samuels.
On 11 January 2015, millions marched and we joined them under a Simon Wiesenthal Centre balloon inscribed, "We are all Charlie, Police, Jews," in tribute to all the victims, hoping that this demonstration would mean a sea-change in solidarity against antisemitism.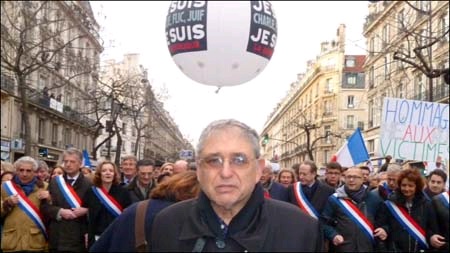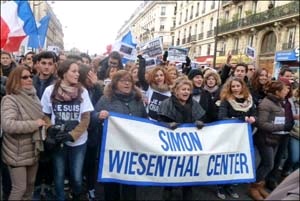 Photos CSW Europe.
Samuels added, "We called on France to stop the culture of excuse: not all alienated, frustrated, or unemployed young people, born in France or migrants, commit atrocities. There is no social welfare reason for slaughtering journalists. Indeed, Charlie Hebdo cartoons are often antisemitic. Jews counter-attack through the law courts, not with Kalashnikovs."
Our Centre focussed on a true hero: on the ground floor of the Hyper Cacher supermarket, there were young Islamists killing four Jews. In the basement, a young Malian Muslim paperless migrant was hiding 15 Jews in the huge refrigerator. Lassana Bathily then got out of the building to help the police in their rush on the terrorists.
"We obtained for him a French passport, so that he could be honoured at the Wiesenthal Centre's Hollywood dinner... When asked would you do it again? He replied, 'I did not think... people were in danger... My mother taught me, that is my Islam'," declared the Centre.
"We hope that this trial of declared Jihadists, as long as it may take, will bring justice and closure for the families of the victims. It must not end in acquittal on psychiatric grounds... or a release, as in the case of Hassan Diab – the main suspect in the 1980 Copernic synagogue bombing – who, after extradition from Canada, managed to return there in the midst of ongoing appeal litigation in Paris.
"Finally, stop the disconnect: Al-Qaeda, Isis, Hamas, Hezbollah, etc. are branches of the same tree. Western countries that reject this will never expunge terrorism on their own soil," concluded Samuels.