"The Wiesenthal Centre had protested the 2013 Nazi-theme float paraded at Aalst and, in March 2019, had brought the float portraying Jewish stereotyped figures, grasping gold coins and infested by rats, to the attention of UNESCO, where the Carnival has held Intangible Cultural Heritage status since 2010."
A caveat: Agreeing to a UNESCO delisting is no guarantee of a hate-free 2020 Carnival...
The Wiesenthal Centre will continue to monitor closely."
Paris, 3 December 2019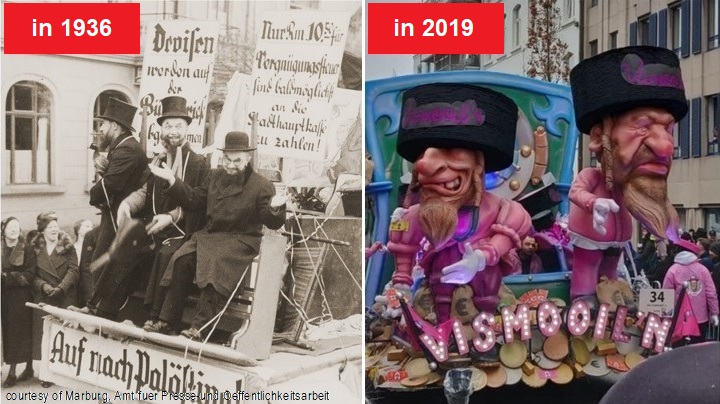 Nazi-era antisemitic Carnival float in Germany and the 2019 Aalst Carnival float.
In March 2019, the Simon Wiesenthal Centre, together with United Kingdom Lawyers for Israel (UKLFI), brought the brutally antisemitic Aalst Carnival float to the attention of the UNESCO Intangible Cultural Heritage of Humanity Bureau meeting in Paris, to delist Aalst from this prestigious status.
A majority of the Bureau member States - Austria, Colombia, Philippines etc... - agreed to propose Aalst's removal at the forthcoming 9-14 December Plenary Committee in Bogotà, Colombia, on the grounds of racism.
The Brussels-based IMPAC (International Movement for Peace and Coexistence) joined our campaign, with a petition signed by over 22,000 and meeting with Belgian officials, including the official human rights agency, UNIA, which had continually blocked a solution on grounds of "freedom of expression."
"UNESCO, through its Assistant Director-General for Culture, Ernesto Ottone Ramírez, took a strong position on behalf of the Secretariat, pointing out that a listed site that incites to racism is unacceptable," noted Dr. Shimon Samuels, the Wiesenthal Centre's Director for International Relations.
In October 2019, the same float organizers released a series of stickers and ribbons displaying stereotyped Jews jumping on the logo of UNESCO, apparently suggesting Jewish control of the UN body (an ironic farce in the face of the State of Israel's recent departure from the organization). These images predict even more antisemitism in the forthcoming 2020 Carnival," added Samuels.


The stickers and ribbons planned for the 2020 Aalst Carnival.
"Belgium has, reportedly, now 'withdrawn' the Aalst Carnival from UNESCO's list, rather than face the ignominy of its being expelled for antisemitism..." stressed UKLFI Chief Executive, Jonathan Turner.
Nigel Goodrich and Patricia Teitelbaum of IMPAC pointed to the Belgian press and, "a stir in Flanders flushing out quite a number of racists."
Samuels had approached the newly appointed first woman and Jewish Prime Minister of Belgium, Sophie Wilmès, on this outrage... "Belgium has yet to issue a formal statement requesting delisting... The Aalst Mayor, in arguably antisemitic language, described withdrawal from UNESCO as a liberation from Jewish pressure."
A CAVEAT: "There is, indeed, no provision for a 'unilateral withdrawal'. It is still the 24 voting member-states' Intangible Cultural Heritage Committee's decision."
"Delisting is no guarantee of a hate-free 2020 Carnival. The Wiesenthal Centre will be monitoring closely," concluded Samuels.