Geneva, 19 March 2019
In a letter to Michelle Bachelet, United Nations High Commissioner for Human Rights, presented at the session on the UN Human Rights Council Report on the so-called "Crimes of Israel," otherwise known as "Item 7," Dr. Shimon Samuels, Director for International Relations of the Simon Wiesenthal Centre, expressed outrage at "the litany of offensive accusations targetting the Jewish State."
Samuels argued that, "We find it impossible to comprehend your leadership of a Council bent on a constant hatefest against Israel and the Jewish people."
He continued, "Sitting in the Chamber today, we heard a litany of outrageous and defamatory charges from member-States and NGOs, in competition to express the most offensive accusations against Israel."
The letter argued, "Medieval conspiracies blaming Jews for poisoning wells and spreading the Black Plague were regurgitated, just as repeated by the Nazis who called the Jews 'our misfortune' and instigated the boycott of all Jewish stores and enterprises."
"Today, in the Chamber, we heard how Israel is 'torturing Palestinian children... spreading disease in their villages,' and above all demands for the completion of a database of all business enterprises dealing with Israel in Judea and Samaria, otherwise known as a list for BDS (Boycott, Divestment, Sanctions), a practice now penalized as a crime in several European jurisdictions."
The Centre urged the High Commissioner, "before the vote on the slanderous report on so-called 'Israeli crimes in Gaza – next Thursday afternoon or Friday morning – to publicly condemn your constituency for such 'Human Wrongs,' in the hope that States who still recall the pristine purposes of the Commission (now Council) will vote against."
"The very existence of 'Item 7' focussing exclusively on Israel is a travesty, as long as 'Item 8' on Human Rights violations in the other 194 UN member-States is maintained."
The Wiesenthal Centre was also present at the over 1,000-strong demonstration facing the United Nations. Its banner was carried by Christian Friends of Israel and teenage Zionist movement members from across Europe.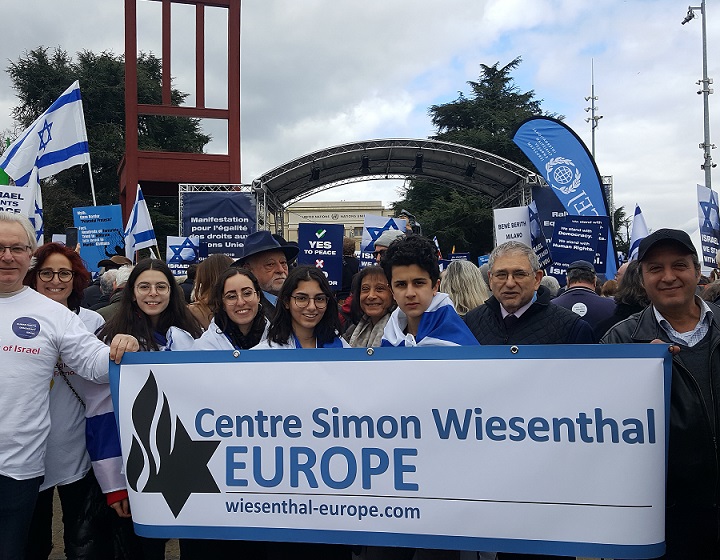 Wiesenthal Centre at the rally facing the Palais des Nations.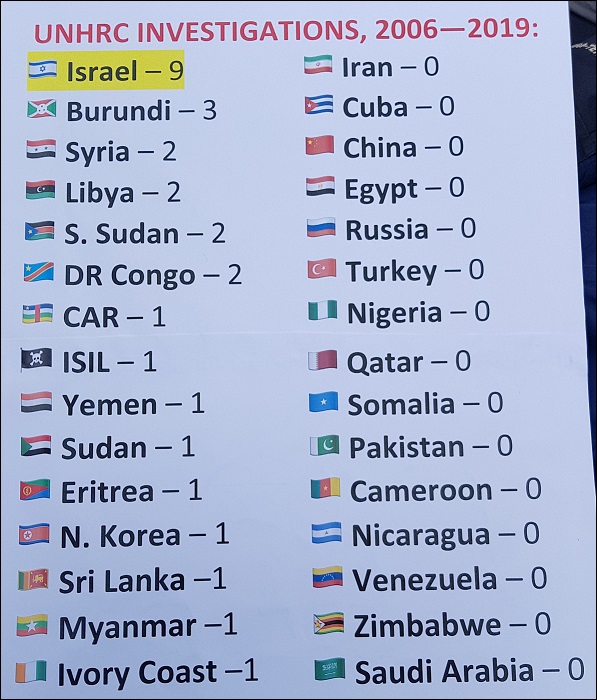 Statistics show the UNHRC's singling out of Israel.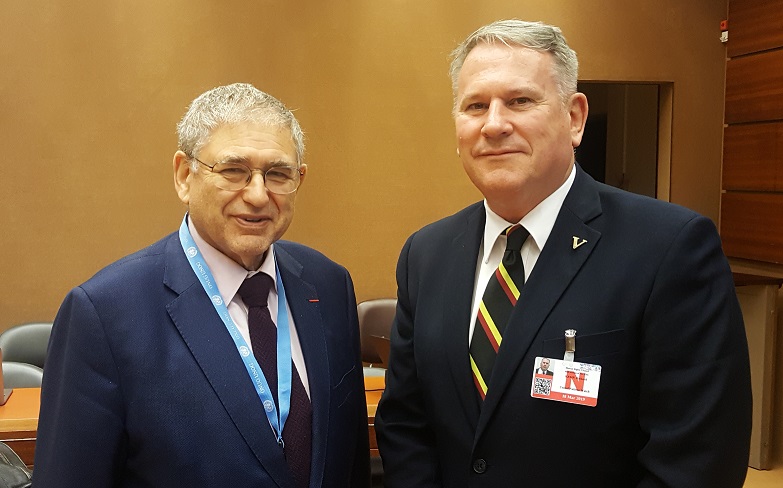 In the Chamber, Samuels with Col. Richard Kemp, who had challenged the biased findings of the UNHRC Report
after observing the Gaza situation from the field.