"Wiesenthal Centre turns to Italian National Partisans Association (ANPI) to investigate baker and parents, who offend the anti-Nazi Bologna resistance and the victims of the Holocaust."
Paris, 14 March 2019
In a letter to ANPI (Italian National Partisans Association) President, Carla Nespolo, the Simon Wiesenthal Centre Director for International Relations, Dr. Shimon Samuels expressed horror at a schoolboy's 15th birthday party in Bologna, reportedly celebrated with two cakes bearing pictures of Adolf Hitler... one stating: "Pronto cara? Accendi il forno che sto arrivando!" ("Hello darling? Turn up the oven, I am coming home!")... and the second stating: "Evvai... che oggi sarà una serata... a tutto gas!!!" ("Let's go... Today, we'll have an all gas [full throttle] evening!!!"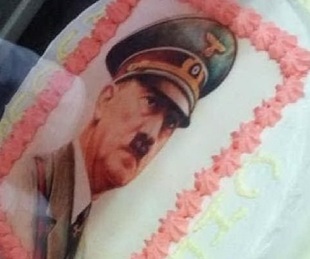 See related article on:
https://corrieredibologna.corriere.it/bologna/cronaca/19_marzo_12/quelle-torte-sapore-nazistanella-festa-privata-liceali-acf148f6-449d-11e9-a492-e698148b1156.shtml
Samuels continued, "apparently, the host parents and the baker claimed their act was meant to be a 'prank' without any intention to offend"...
Three schoolmates were reported as having refused to taste the cakes and reported the scene to their teacher.
The Centre emphasized that, "even more sickening, was the date of this travesty: 27 January - International Holocaust Commemoration Day."
"We turn to ANPI to investigate and seek appropriate measures against the parents and the pastry cook, who indeed offended the anti-Nazi resistance and the victims of the Holocaust,"... Moreover, "ANPI is well placed to engage in an educational initiative for schools, to sensitize parents through their children to the dangers of Holocaust abuse"... "the Simon Wiesenthal Centre - Europe stands ready to assist in this campaign," concluded Samuels.