Paris, 21 December 2018
In a letter to Royal Quartz / Louis Pion Watches Division Director-General, Arthur Lemoine, based at Galeries Lafayette stores, Wiesenthal Centre Director for International Relations, Dr. Shimon Samuels, expressed outrage on behalf of its French members, who "brought to our attention an abuse of your Royal Quartz Division to foment antisemitism, as defined by the International Holocaust Remembrance Alliance, endorsed by France."
The letter noted that, "On 26 October, a couple, about to board an El Al flight to Israel, purchased a watch from your Royal Quartz outlet at Paris Orly West airport."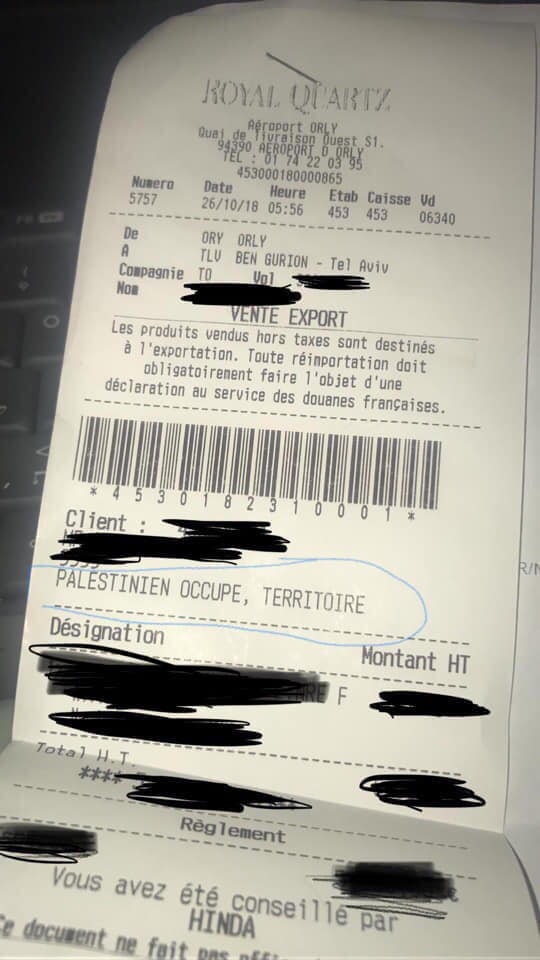 The Centre stated, "To their horror, the sales bill was printed as 'To TLV Ben Gurion - Tel Aviv... Palestinien occupé, Territoire (Occupied Palestinian Territory)... You have been served by Hinda'."
The Centre emphasized that "The couple has tried for almost two months to receive an explanation from Royal Quartz, only to be met by a deafening silence."
Samuels continued, "Mr. Lemoine, I have been told that you feel inspired by the late Simone Veil - a Holocaust survivor. Surely, this exercise in hate in the name of your company sullies the memory of Madame Veil and the reputation of Royal Quartz... We urge you to publicly condemn this scandal, investigate its circumstances and fire Hinda together with any other parties involved."
"Your continued silence will lead our worldwide membership to invoke their right to choose and advise their friends and contacts to avoid Royal Quartz and Galeries Lafayette"... "As Royal Quartz is the 'Official Rolex Retailer,' we are similarly sharing this message with Mr. Jean-Frédéric Dufour, Rolex CEO," concluded Samuels.