"We are confident that a perpetrator entering the U.K. would be detained for extradition."
"We are not so sure if they were to enter the U.S. as a 'Green Card' holder."
"We urge Argentina to work with the U.S. to check the 'Green Card' list and place the five on a Watch List as agents of terror."
Buenos Aires and London, 3 August 2018
The Simon Wiesenthal Centre marked the 18 July 24th anniversary of the AMIA Buenos Aires Jewish Centre bombing - that left 85 dead and over 300 wounded - by a round-table at the British Parliament. The meeting's objective was to examine the application of the pending INTERPOL "Red Notice" arrest warrants for the detention and extradition to Argentina of the Iranian perpetrators.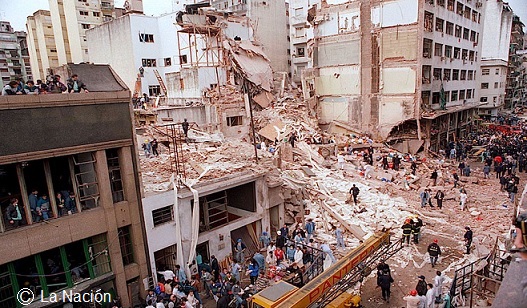 The Argentine Ambassador to the United Kingdom read a message from his Foreign Minister, Jorge Faurie, stating that "the Argentine Government is fully committed... to ensure that all those involved in the attack are brought before the Argentine courts."
Articles in the Argentine press have revisited the secret codicil in the so-called "nuclear deal" with Iran, whereby at least 2,500 to 2,800 Iranian, Syrian and Iraqi officials received "Green Cards" for residence in the United States.
Then Secretary of State, John Kerry, was reportedly tasked by President Obama to thereby reactivate the frozen Iranian assets in American banks, to be managed by these new American residents.
"One cannot forget the 2016, $400 million in cash secret plane delivery to Tehran, the day Iran released four American prisoners, apparently a first payment of a $1.7billion settlement," recalled the Centre's Director for International Relations, Dr. Shimon Samuels.
"We are now confident that if any of the five INTERPOL-sought Iranian suspects, who are still politically active, were to arrive in the U.K., they would be apprehended and an Argentine arrest warrant would result in their extradition," added Samuels.
"We are not so sure, however, if one of these perpetrators were to enter the United States - unthinkably as a 'Green Card' holder - or even visit a relative or associate to a new American resident," suggested the Centre's Latin American Representative, Dr. Ariel Gelblung.
The Centre noted President Trump's tweet: "Just out that the Obama Administration granted citizenship, during the terrible Iran deal negotiation, to 2,500 Iranians - including to Government officials..."
Samuels and Gelblung urged Foreign Minister Faurie to "work with the United States to check the 'Green Card' list and demand that the five perpetrators be placed on a Watch List as agents of terror."