UNESCO Receives 11th Annual Wiesenthal Centre/Verbe et Lumiere-Vigilance/Russian Holocaust Centre Essay Laureates

"This programme has educated a whole new generation of some 12,000 messengers and militants for tolerance and multipliers against extremism".

Paris, 6 July 2015

This unique Holocaust essay competition programme, co-organized by the Simon Wiesenthal Centre-Europe, (CSW), the Association Verbe et Lumiere-Vigilance (VL-V) and the Russian Holocaust Centre (RHC), now in its eleventh year, annually invites to Paris the five student winners from across the former Soviet Union, to present their research findings at UNESCO.

Of he 2015 laureates, two are from Moscow and one each from Kemerov (Siberia), Kaliningrad,(Russia) and Kamenka (Belarus) Those were chosen from well above 2,000 submissions.

Attended by the delegations of Russia, Armenia, Belarus, Canada, Germany, and Israel, the proceedings were opened by Genc Seiti, Director of the UNESCO Division for National Commissions and Civil Society. He commended the laureates' initiative for, not only keeping alive the memory of the Holocaust in Russia, but contributing to respect, tolerance and human rights worldwide.

UNESCO Deputy Director-General, Getachew Engida, described this programme as "emblematic of UNESCO's commitment to Holocaust education", with examples from its recent seminars in Africa.

Dr. Anne-Marie Rovcolevschi, President of the Aladdin Foundation , explained the background to this programme providing Arabic, Farsi, and Turkish translations of important works of Holocaust literature for readers across the Muslim world.

The writer and researcher,Didier Bertin, discussed recently declassified American OSS (the precursor to the CIA) and British Intelligence files revealing that the Allies had received unambiguous testimony early in the war of the Nazi plan for the extermination of Europe's Jews.

Dr. Ilya Altman, RHC Chair, spoke of the universal applicability of Holocaust research, asking,"why, otherwise would French intellectuals, journalists and politicians have come to UNESCO to hear Russian papers over the past eleven years?"

Altman then introduced the Laureates.

Each presented an abstract of their paper:

-Alexander Listengort - "Ways in which Armenian and Jewish painters Reflect Tragic Moments in the History of their Nations"

-Elvira Funk - "An Existential Approach to the Concept of 'A Shoah Victim'"

-Kristina Vavilova - "The Russian Historiography of the Holocaust"

-Daria Novozhilova - " The Drive of Children and Teens to survive the Holocaust"

-Anna Kopsosova - "Memorialization of the Holocaust in Belarus"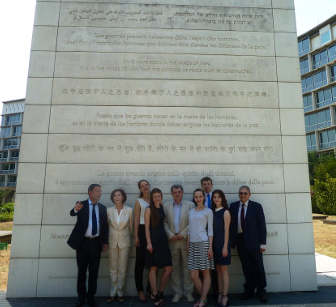 Left to right: Mr. Genc Seiti, Graciela Samuels, Elvira Funk,
Kristina Vavilova, Dr. Ilya Altman, Daria Novozhilova, Anna Kopsosova,
Alexender Listengort, Dr. Shimon Samuels.

Verbe et Lumiere Treasurer, Edouard Fridman, praised the project as "the most important for Verbe et Lumière and looked forward to its expansion in numbers and beyond Russia."

SWC Director for International Relations, and V&L-V Secretary, Dr. Shimon Samuels thanked UNESCO and Special Advisor to the Director-General, Dr. Graciela Vaserman Samuels for conceiving this event.

He added that " the first of these meetings in 2004 was based on 27 essays. This is our 11th, for which we received over 2,000... Therefore by this year we have received 55 winners chosen from over 12,000 essays in total."

He proposed that "UNESCO publish these 55 papers together with messages from the keynote speakers of each annual session" noting that, "The Director-General has already encouraged the editing of such a volume."

This was warmly endorsed by DDG Engida.

Samuels concluded in congratulating Dr. Altman for "creating a new generation across the former Soviet Union of some 12,000 messengers and militants for tolerance and multipliers against extremism... May their efforts grow exponentially from year to year."


UNESCO DDG Mr. Engida, Delegates, Staff, RHC/SWC/V&LV members, 5 Laureates & Guest Speakers