Letter by Dr. Shimon Samuels published in The Jerusalem Post
3 July 2020
https://www.jpost.com/middle-east/isis-threat/letter-asks-eu-to-focus-on-isis-volunteers-returning-to-europe-633799
The letter, sent by The Simon Wiesenthal Center, asks the EU to stop focusing on Israel and instead focus on ISIS jihadists.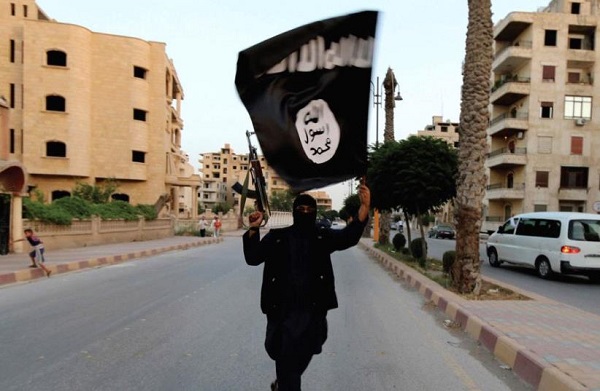 A member of ISIS waves the group's flag in Raqqa (photo Reuters).
The Simon Wiesenthal Center sent a letter to the European Union High Representative for Foreign Affairs and Security Policy Josep Borrell, in which Director for International Relations of the center, Dr. Shimon Samuels, suggested that the EU should stop its focus on Israel, and instead turn its attention to a Turkish ratline that is allegedly bringing former ISIS volunteers into Europe.
In the letter, Samuels said that people in their 20s and 30s who have embraced an extreme Islamist ideology and are now coming back to Europe pose a possible threat.
The main cause for concern cited in the center's press release in the French Daily paper Le Parisien is that due to "instability in Syria and the vulnerability of the Kurdish camps, intelligence agencies fear that [ISIS] combatants are secretly reaching European soil."
"One might add the mass of refugees and anarchic conditions within Syria: the genocidal regime, and the chaotic roles of Iran, Russia, Turkey and their proxies," noted the center.
"Mr. High Representative, under these conditions we find your blog post, tweeted only today, to be out of context: 'One of our enlightening moments of the Brussels Conference on Syria was my exchange with Syrian civil society. Their commitment and determination is a lesson of dignity'..." Samuels argued: "This hardly reflects the reality of the Raqqa hecatomb and the Turkish guides bringing young Europeans trained in the battlefield... Now in their mid-20s to mid-30s, having stoned women charged with adultery, chopping the hands of thieves and decapitating hostages, their Turkish chaperones are escorting them home to theaters near us all."
At the end of the letter, Samuels warned that under this threat, there will be more targets than just Jews. Rather, these extremists who have come back to Europe will target Christians, moderate Muslims, women, gays and others if not handled properly.