Paris, 17 December 2022
Wiesenthal Centre Director for International Relations, Dr Shimon Samuels, calls on Gianni Infantino, FIFA President, to prevent the Qatar World Cup closing ceremony performance from becoming a political platform through the song by 24-years-old Egyptian rapper "Wegz", entitled "The Pride of the Arabs" – or as translated by Teller Report "The Pride of the Arabs invades."
According to Egyptian media, Wegz (also known as Ahmed Ali) first presented his song at a pro-Palestinian concert in Paris last May, wrapped in a Palestinian flag and a keffiyeh (see photos below). Wegz' Instagram page is politically oriented, Palestine Online Twitter page celebrates him as "the pride of the Arabs" and an icon of their political agenda.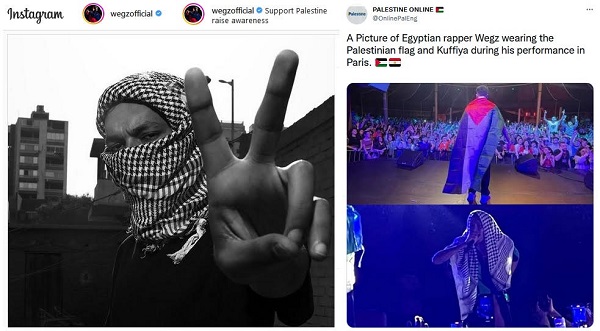 His pro-Palestinian and anti-Israel campaign, directed to Islamist elements in high-schools and universities through concerts in France, raised concern at the time and represents an added danger to Jewish communities.
Reportedly, Wegz even called to cancel Ronaldinho's visit to Egypt, following his stay in Israel.
"Mr. President Infantino, the Qatar World Cup closing ceremony marred by a highly political atmosphere must be stopped by FIFA. Wegz must not perform as he did in Paris. The 'beautiful game' cannot become a platform for incitement to hate," concluded Samuels.
* * *
For further information, contact Shimon Samuels at csweurope@gmail.com