Partis, 20 November 2021
In a letter from Wiesenthal Centre Director for International Relations, Shimon Samuels, to Spanish TV channel La Sexta, he had urged that the interview with Isabel Peralta – a 19-year old Nazi – be removed from its "Equipo de Investigación" programme entitled "Los Cachorros Ultras" (the Extremist Puppies).
The network then announced that its Presenter, Gloria Serra, for the first time in 11 years had lost her voice and that a substitute would take the interview.


La Sexta online, announcing that Gloria Serra will not present her programme for the first time
in 11 years (source: La Sexta/Atresmedia).
The 45-minute programme focused on neo-Nazi groups in Spain, of which only 7 minutes for the Peralta interview from her German-based sanctuary.
First, she was shown among the demonstrators outside the Moroccan Embassy in Madrid, protesting against the influx of Muslim migrants. She was then shown at the podium of the March 29 Palestine Land Day, in the background a "Viva la Intifada" banner, strangely in favour of Muslim Hamas.
"The actual interview showed Peralta as a 'little girl lost!' – a mix of shyness, hollowness and insincerity – where butter couldn't melt in her mouth," stated Samuels.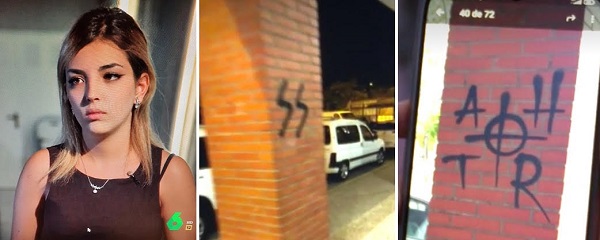 Graffiti in central Madrid by neo-Nazi group Bastion Frontal, where Isabel Peralta (left)
is particularly active. AHTR stands for "Adolf Hitler Tenia Razon" (= Adolf Hitler Was Right).
Source: La Sexta/Atresmedia.
The interview received the following responses:
- Her parents... "against her and did not understand her."
- Her attitude to Jews... "nonsense, my work is for youth." [dismissing the question, that is already an issue with Spanish investigators, who have opened a case for "hate-crimes" against her...]
- Her work with youth... "the youth movement to help them."
Intersticed in the conversation, were comments from Esteban Ibarra, President of the Movement Against Intolerance, who argued that, "if Peralta was in Spain, she would be in jail for incitement to violence."
An irony, in the week before the controversial interview, the Holocaust Memorial in Oviedo, Spain, was defaced by vandals.
We then learned that the usual Presenter of "Equipo de Investigación," Gloria Serra, had not participated, due to being found positive to Covid-19.
"The Wiesenthal Centre wishes her a speedy recovery and hopes that the 'little girl lost!' teenage Nazi be revealed for what she is: a hatemonger inciting youth to vandalism and violence," concluded Samuels.
* * *
Please contact us if you are a witness or victim of antisemitism or other forms of discrimination on social media.
"The combination of hatred and technology is the greatest danger threatening mankind." (Simon Wiesenthal, 1908-2005)