30 and 15 Years Imprisonment to the Perpetrators – "Sentences Must Not Be Reduced!"
Paris, 10 November 2021
Mireille Knoll was just a child in Paris when, in the summer of 1942, the French police, cooperating with the Nazis, rounded up thousands of Jews, stuffing them into the Vélodrome d'Hiver, then deporting them to Auschwitz.
On 23 March 2018, having survived the Holocaust, at 85 she was assaulted, stabbed to death, and her body was partly burned by her attackers.
Wiesenthal Centre Director for International Relations, Dr. Shimon Samuels, stated, "Unlike Sarah Halimi's murderer, who has not been judged but sent to a psychiatric clinic because 'under the influence of cannabis,' Mireille Knoll's murderers have been sentenced respectively to 30 years life imprisonment and 15 years. The sentence was increased due to the charge of 'hate crime'."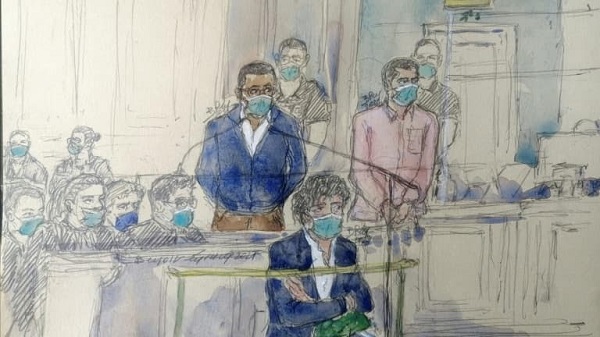 Audience sketch of Yacine Mihoub (left) and Alex Carrimbacus, on the first day of their trial
for the murder of Mireille Knoll, on October 26, 2021 in Paris (photo Benoit Peyrucq © 2019 AFP).
Yacine Mihoub, who apparently shouted "Allahu akbar" while stabbing the victim, was also questioned on inscriptions in his cell glorifying the perpetrators of Islamist attacks, on books he kept, such as Mein Kampf, Sharia law or concerning Mohamed Merah, the perpetrator of the Toulouse Jewish school massacre. These are all elements that confirm his antisemitic motive.
His accomplice, Alex Carrimbacus, participated with the intent of stealing, claiming that Mihoub argued that "being a Jew, she must be rich."
Mihoub also accused Mireille Knoll of having prevented him from going to Algeria to visit his sister's grave, because he had been previously sentenced to some months in prison in 2017 for having sexually assaulted the 12 year old daughter of Knoll's assistant. His own mother, Knoll's neighbour, has been indicted for "tampering with criminal evidence," by cleaning the murder weapon and getting rid of the glasses of port given by Mireille to her assassins.
The Centre stressed, "There should be no reduction of sentences for such a heinous crime. We expect that – taking into account the antisemitic circumstances – this will represent a new step for French jurisprudence."
"The police and judges now have access to the IHRA Definition and hate-crime legislation," concluded Samuels.
* * *
"My cause was justice, not vengeance. My work is for a better tomorrow and a more secure future for our children and grandchildren." (Simon Wiesenthal, 1908-2005)