"European municipalities must take measures against the 'Pedal for Palestine' BDS Campaign."
Paris, 2 November 2021
The Simon Wiesenthal Centre (SWC) Director for International Relations, Dr. Shimon Samuels, appealed to Benedetto Zacchiroli, President of ECCAR (the European Coalition of Cities Against Racism) – which is in formal relationship with the SWC.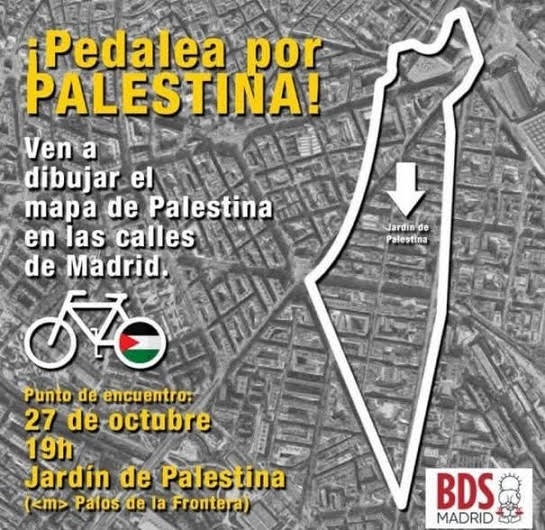 The campaign "Come to draw the map of Palestine in the streets of Madrid" wipes the State of Israel completely off the map.
The Palos de la Frontera Metro park in Madrid has been renamed as "Palestine Garden" for the occasion.
The sub-heading "Pedal for Palestine" can be repeated across Europe and beyond.
The 158 member municipalities of ECCAR must be forewarned...
The organizers of this campaign are reportedly affiliated to "BDS" (Boycott, Divestment, Sanctions) targeting the Jewish State, reminiscent of the 1938 Kristallnacht – the Nazi antisemitic "Night of Broken Glass," prelude to the Holocaust...
The 83rd commemoration of Kristallnacht next week can be, knowingly, the date for such events that threaten all European Jewish communities and the security of all cities' citizens.
"The Wiesenthal Centre will be monitoring this outrage," concluded Samuels.
* * *
"My cause was justice, not vengeance. My work is for a better tomorrow and a more secure future for our children and grandchildren." (Simon Wiesenthal, 1908-2005)