Tel Aviv, 2 November 2021
The Israel and British Commonwealth Association (IBCA) was hosted by H.E. Neil Wigan, the British Ambassador to Israel, at his residence and launched the inauguration of events to commemorate the 104th Balfour Declaration of 1917, which committed the then British Government to creating a homeland for the Jewish people in "Palestine".
IBCA Chair, Brenda Katten, expressed the Association's deep appreciation to the Ambassador for his generous hospitality and introduced the guest speaker Ambassador Daniel Taub – former Israel's Ambassador to the United Kingdom.
Wiesenthal Centre Director for International Relations, Dr. Shimon Samuels, who attended the event, reflected on the significance of November in the Jewish calendar:
- 2 November 1917: the Balfour Declaration
- 9 November 1938: Kristallnacht, the Night of Broken Glass, "the Prelude to the Holocaust"
- 29 November 1947: UN Partition Plan: Jews accepted, Arabs went to war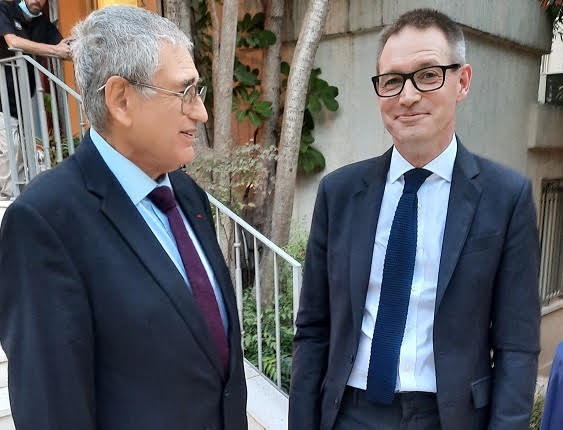 Samuels with Neil Wigan, British Ambassador to Israel.
The Wiesenthal Centre has been monitoring a Palestinian threatened lawsuit against the United Kingdom for so-called "damages generated by the Balfour Declaration." Their demand is an expression by London for "recognition and accountability." The British Government has dismissed the claim, though it persists as an issue on social media.
* * *
"My cause was justice, not vengeance. My work is for a better tomorrow and a more secure future for our children and grandchildren." (Simon Wiesenthal, 1908-2005)