Blog by Dr. Shimon Samuels published in The Times of Israel
24 September 2021
https://blogs.timesofisrael.com/french-train-car-of-dreams-holocaust-vandalism/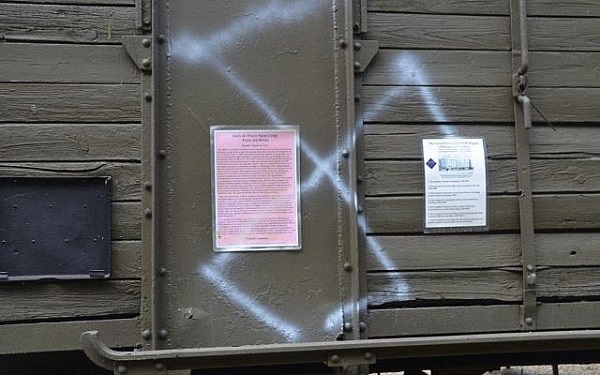 Trains des Rêves 'What Value Life,' Greg Marshall, not subject to copyright
"Wiesenthal Centre urges vandal be brought to justice, while his lopsided swastika remains as artefact of hate for the comments of visiting tourists."
American-born Greg Marshall had bought an abandoned train station 3 hours south of Paris, adding a number of train wagons, to serve as a hotel with restaurant cars, while presenting each of the carriages' history.
The most recent is a 8/40 (8 horses or 40 men) OCEM 29 wagon that had transported French prisoners of war to Germany in 1940. From 1941 to 1945, it was claimed to have also deported "Jews, Gypsies, Homosexuals, handicapped, Resistance fighters and Communists to the death camps."
Marshall stated that the few remaining wagons of his "Trains of Dreams" now "serve as museums and historic reminders of their many years of service."
In the case of the 8/40, "as many as 145 men, women, children and babies were forced into these wagons and transported for up to two weeks, without food, water and toilets… Many died along the route… Very few survived to be gassed… Over six million did not."
A few weeks ago, this wagon was vandalized and a swastika painted on its side. A memento of its dark history.
"Can you and your friends and family fit into this space for up to 14 days?... Simon Wiesenthal offered a one-word solution… Tolerance," stated Marshall in his flyer "What Value Life".
The Wiesenthal Centre's Director for International Relations, Dr. Shimon Samuels, argued that "there are three factors to the case:
1) The arrest and judgment of the vandal;
2) His lopsided swastika to remain as an artifact of hate for the attention of visiting tourists;
3) The Wiesenthal Centre will offer to create a flyer for travel agents and media to assist Mr. Marshall in his project to introduce the Holocaust as a factor at his train museum in Dracy-Saint-Loup.
We are particularly delighted by the response of MP Rémy Rebeyrotte of the French Assemblée Nationale (Parliament): "Very shocked at the outrage made to your train. I have raised the subject with the Minister of the Interior…" "We await the Minister's response," concluded Samuels.
Shimon Samuels is Director for International Relations of the Simon Wiesenthal Center. He has served as Deputy Director of the Leonard Davis Institute for International Relations at Hebrew University of Jerusalem, European Director of ADL, and Israel Director of AJC. He was born in UK and studied in UK, Israel, U.S. and Japan.