Paris, 11 August 2021
The Wiesenthal Centre tracked the website "Ils Sont Partout" (They Are Everywhere) and "Je Suis Partout" (I Am Everywhere).
"Three hours after our revelation, the net of prominent French Jews was removed from the Internet and its link, when opened, appears as a 404 error," stated Dr. Shimon Samuels, Director for International Relations of the Simon Wiesenthal Centre.
The network was apparently first hosted on Amazon Web Services, went viral through the Russian VK social media outlet – that is very popular with the extreme-right – and then placed on the Moscow based Yandex.
French sources believe that the site was taken down at the order of the French government.
"Above all, our screenshots and exposure played an important role in this affair," concluded Samuels.
The French newspaper Midi Libre used the material of the Centre: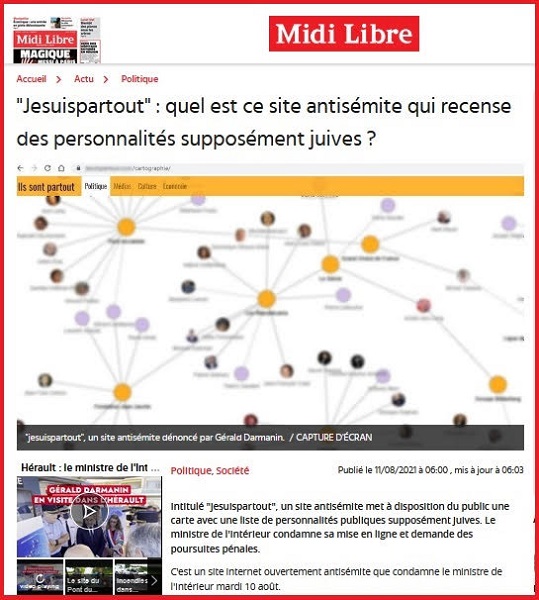 "Jesuispartout", an antisemitic website condemned by Gérald Darmanin, Interior Minister.
* * *
"The combination of hatred and technology is the greatest danger threatening mankind." (Simon Wiesenthal, 1908-2005)
"My cause was justice, not vengeance. My work is for a better tomorrow and a more secure future for our children and grandchildren." (Simon Wiesenthal, 1908-2005)