Paris, 12 March 2021
In a letter to INTERPOL Secretary General, Jürgen Stock, The Wiesenthal Centre Director for International Relations, Dr. Shimon Samuels, demanded the return to "Most Wanted" status of Ahlam Ahmad Al-Tamimi, responsible for killing 15 – of which 8 children – in a Jerusalem pizza restaurant in 2001.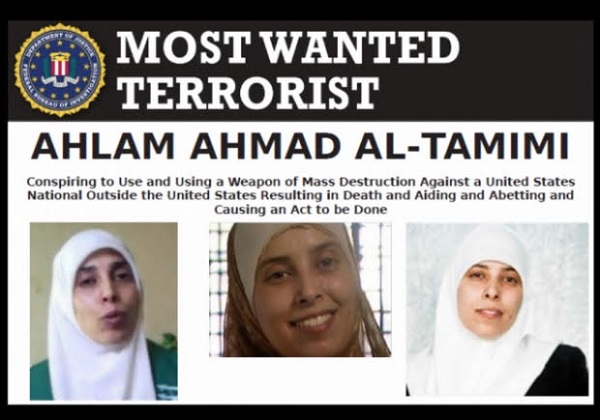 Ahlam Ahmad Al-Tamimi is also on the FBI's "Most Wanted Terrorist" list.
Samuels recalled that "INTERPOL was redeemed from its World War Two control under Nazi SS officers, partly through its relationship with our late mentor, Simon Wiesenthal, in bringing Nazi war criminals to justice," continuing, "its International Arrest Warrants – 'Red Notices' – for the predominantly Iranian role in the AMIA Buenos Aires Jewish Centre bombing, have been important measures, even if the suspects are still at large."
The Centre urged INTERPOL to "maintain its 'Red Notice' for Ahlam Ahmad Al-Tamimi, responsible for the 2001 Jerusalem pizza restaurant bombing that killed 15, including 8 children. She has publicly shown lack of remorse and claimed her pride for this attack. She is currently protected from extradition in her Jordanian sanctuary."
The letter added, "Mr. Secretary General, the German strategist, Carl von Clausewitz, defined diplomacy as 'war by other means'. Palestinian abuses of international organizations – political, legal, cultural, educational – have turned them into battlefields. We have heard that INTERPOL has removed Al-Tamimi from its 'Most Wanted list'. Such an outrageous step would encourage further terrorism and deny justice and closure for the victims and survivors."
"Our Centre urges you to prevent INTERPOL from falling to Palestinian mayhem... Al-Tamimi must be returned to 'Most Wanted' status!" concluded Samuels.
* * *
Please contact us if you are a witness or victim of antisemitism or other forms of discrimination on social media.
"For evil to flourish, it only requires good men to do nothing." (Simon Wiesenthal, 1908-2005)