Paris, 3 March 2021
The Simon Wiesenthal Centre last week contacted a number of Foreign Ministers, Secretaries of State and a Prime Minister, urging them to boycott the "celebration" of the 20th anniversary of the UN World Conference Against Racism.
Held in Durban, South Africa, in September 2001, the first WCAR degenerated into an antisemitic hatefest.
Durban II in 2009 – held in Geneva – and III in 2011 – in New York – were opened by then Iranian President Mahmoud Ahmadinejad, a recidivist Holocaust denier and an arch-hatemonger against Jews.
Dr. Shimon Samuels, the Centre's Director for International Relations, welcomed the fact that, "Our letter to Spain has had an effect. On 1 March, Deputies representing the Partido Popular (PP), the main opposition party in Congress, registered a written Parliamentary Question, asking the Government to state its position regarding 'celebrating' Durban's 20th anniversary, and its opinion concerning the different editions from 2001 until today. The Spanish Government must present a written response."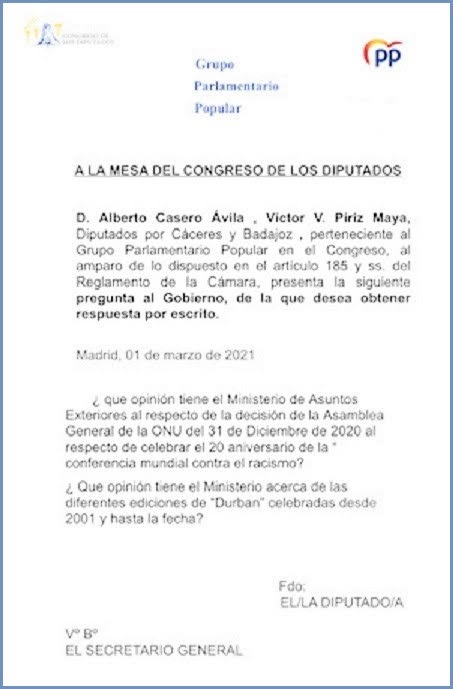 "We are eager to read the Government's response to the question," concluded Samuels.
* * *
Please contact us if you are a witness or victim of antisemitism or other forms of discrimination on social media.
"Hate is a boomerang, which comes back for everyone and spares no one, neither the weak nor the powerful."
Simon Wiesenthal, 1908-2005 (quote from his book "Justice Not Vengeance")