"In view of the recent official peace and normalization of relations signed with Israel, we call on Your Highness to act immediately against texts that are incompatible with the Abraham Accords and an abuse that offends the Emirate of Sharjah and the UAE itself."
Paris, 6 November 2020
In a letter to H.H. Sheikh Dr. Sultan Bin Muhammad Al-Qasimi, Emir of Sharjah, UAE, the Simon Wiesenthal Centre Director for International Relations, Dr. Shimon Samuels, stated: "This week's opening of the Sharjah International Book Fair has drawn our attention to displays of antisemitic books that should have no place at the Fair. Sadly, the current SIBF is abused, particularly by the recidivist Egyptian publisher Dar El-Kitab Alaraby (stand D5-D6). Examples include:
'Pawns in the Game. The Practical Implementation of the Protocols of the Elders of Zion' – by William Guy Carr [notorious antisemitic conspiracy theorist] and translated by Magdi Kamel
'The Protocols of the Elders of Zion: The Masonic Plots to Dominate the World' – by Mansour Abdel Hakim [based on a Tsarist Secret Police forgery of the early 1900s]
'The Rothschilds - Merchants of Wars and Revolutions' – by Magdi Kamel
'Mein Kampf' – by Adolf Hitler (edited by Farid al-Falluji)
'The Talmud - Secrets... Facts - Exposing the Jewish Plots to Control the World' – by Dr. El-Hussainy Madi
'Theodor Herzl... Satan of Zionism and Devil of the Modern Era' – by Essam Abdelfattah and Mohamed Sewify Abdallah."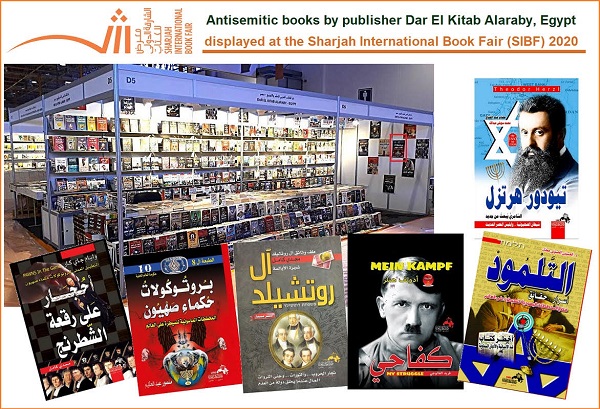 Samuels added, "Dar El-Kitab Alaraby is just one among several publishers who abuse the SIBF. A list of recidivist publishers and hateful titles – which are present on a regular basis at Arab Book Fairs – is in attachment.... Last year, both the Book Fairs in Sharjah (SIBF) and in Abu Dhabi were victims of conspiracy theorists and Nazi publications."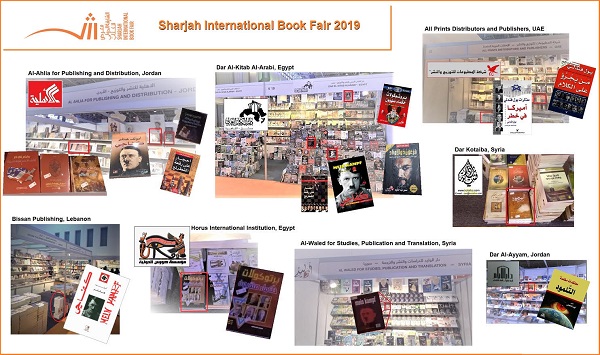 "Your Highness, in order to render the SIBF hate-free, the SIEL Casablanca Fair could be a good example. Antisemitic titles are removed in the same manner as Islamophobic titles, in line with the policy of Morocco's King Mohammed VI. We urge the Sharjah Book Fair to follow this example and to bear in mind that recidivists simply replace any volumes removed. We thus urge the Fair authorities to apply appropriate measures, by banning those publishers and catalogues displaying antisemitic and anti-Israeli titles," the letter noted.
The Centre declared, "In view of the recent official peace and normalization of relations signed with Israel, we call on Your Highness to act immediately against texts that are incompatible with the Abraham Accords and an abuse that offends the Emirate of Sharjah and the UAE itself."
"We have also expressed our concern to the UAE Ministry of Foreign Affairs through the United Arab Emirates UNESCO Permanent Delegate and the UAE Department of Culture. This letter is similarly shared with the United States and Swedish Ambassadors, as also the Institut Français, each of whose representatives graced the opening of the Book Fair in Sharjah," concluded Samuels.
* * *
Please contact us if you are a witness or victim of antisemitism or other forms of discrimination on social media.
"For evil to flourish, it only requires good men to do nothing." (Simon Wiesenthal, 1908-2005)