"The outrage was shared with newly appointed Volkswagen CEO, Ralf Brandstetter, in Wolfsburg HQ, Germany."
Buenos Aires and Paris, 7 September 2020
In a letter to Steffen Reiche, President of the Executive Council of Volkswagen México, the Simon Wiesenthal Centre demanded immediate action against those responsible for its dealership located in Coyoacán, which is displaying Nazi symbols on its facilities.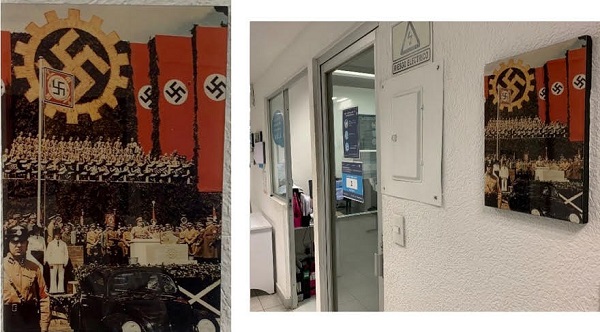 The Nazi era photo in the Volkswagen dealership in Coyoacán, Mexico.
The letter signed by Drs. Shimon Samuels and Ariel Gelblung, Directors for International Relations and for Latin America respectively, stated: "On behalf of our more than 400,000 members worldwide, we demand that, as a German company you enforce the law that prohibits the exhibition of Nazi symbols... We expect you to immediately identify those responsible and publicly announce the action you will take. The most appropriate would be to drop the concession completely, in order to pass a clear message to your customers that you have learned from your history. Volkswagen, the 'Peoples Car', was a Nazi concept. German cars in Mexico are unacceptable if they come with the swastika..."
The letter was shared with the newly appointed CEO of the Volkswagen Group in Wolfsburg, Germany, Ralf Brandstetter, via Peik von Bestenbostel, peik.bestenbostel@volkswagen.de.