"Right now, the French Jewish community has three needs: Security, Security and Security!"
Paris, 12 August 2020
The Simon Wiesenthal Centre's Director for International Relations, Dr. Shimon Samuels, has called on recently appointed French Interior Minister, Gérald Darmanin: "In view of the rising number of violent attacks on Jewish citizens, it is time to bring back the armed military to guard Jewish neighbourhoods, synagogues, schools and other community institutions."
He added, "Following the 2015 Jihadi assault on a Paris Kosher supermarket, then President Hollande provided a security detail to all Jewish buildings that needed it... The military guards were eventually removed and never replaced by the Macron administration."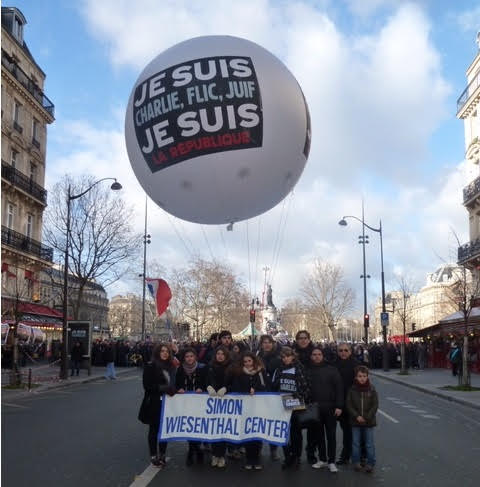 Wiesenthal Centre members march against antisemitic violence
(photo: Wiesenthal-Europe.com).
The Centre had proposed "a smart phone app with a panic button, emitting a loud siren for help, to be made available to school children, synagogue worshippers and other potential targets. There was no follow-up."
This time, a 29-year old Jewish man was beaten unconscious in the elevator to his parents' apartment by two attackers – reportedly of African origin – screaming "Dirty Jew, you are a dead man!"
"Mr. Minister, it is time for clear counter-measures. If caught, perpetrators can no longer be sent to psychiatric clinics or be given judgments of acquittal because they were 'under the influence of narcotics or alcohol'. Jewish districts require a mass of CCTV cameras to ensure rapid identification and intervention... Right now, the French Jewish community has three needs: Security, Security and Security," concluded Samuels.