The Hague, Netherlands, 6 December 2019
Wiesenthal Centre Director for International Relations, Dr. Shimon Samuels, attended "Hearings on the Situation in Afghanistan," as "Amicus Curiae" to the International Criminal Court (ICC). Other partner NGOs were the United Kingdom Lawyers for Israel (UKLFI), the Lawfare Project, the International Legal Forum, My Truth and the Jerusalem Institute for Justice.
The ICC, headquartered in the Dutch capital, the Hague, was created in 2002 based upon the "Rome Statute."
The late Simon Wiesenthal had enthusiastically welcomed the Court as a contemporary Nuremberg Tribunal to prosecute latter day cases of genocide, crimes against humanity and war crimes. Indeed, investigations were launched against suspects across the world and tribunals established after the massacres in Rwanda, Cambodia, Bosnia or Sierra Leone.
As in certain United Nations bodies, however, the United States and Israel never joined the ICC, as they foresaw themselves placed continuously in the dock.
This became a reality since 13 June 2014, when "Palestine" signed the "Rome Statute" and launched a series of communications "alleging crimes committed in the occupied Palestinian territory, including East Jerusalem" to manipulate the Court into targetting Israel. The latest report is to be presented to the Court next week.
"Representing our coalition throughout the Hearings were Dr. Dov Jacobs, based in the Hague, and London Barrister Joshua Kern QC," explained Samuels, adding "these two ICC experts, under the umbrella of 'alleged crimes in Afghanistan' - some implicating the United States - argued against the capacity of the ICC to exercise jurisdiction in the case of non-State Parties."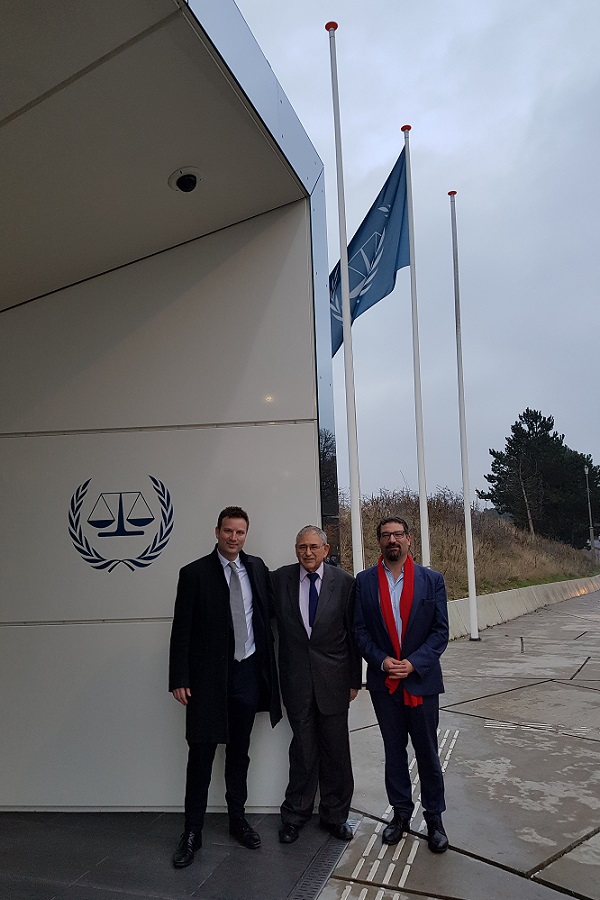 Samuels with Joshua Kern (left) and Dov Jacobs (right).
Watch also:
https://youtu.be/av0SmQh-wa0 (Dov Jacobs from 9 min. 20 sec.)
https://youtu.be/hJpDzJO_p-4 (Joshua Kern from 57 min. 30 sec.)
By association, the United States as non-member party is subject to attack, just as the Israel non-member is under attack by "Palestine" and its supporters.
The Ambassador of Afghanistan briefly implored that the Court "leave it to us, our Afghan national justice system can negotiate peace."
The ICC's own mission statement includes the concept of "complementarity," explained as follows: "The Court is intended to complement, not to replace, national criminal justice systems."
In the leadup to the Hearings, the ICC Chief Prosecutor, Fatou Bensouda - despite pressure from judges - declared for the third time: "there is no reasonable basis to proceed with an investigation into the 'Mavi Marmara' flotilla incident off the coast of Israel."
"May our Afghanistan Hearings lead the ICC back to the vision of Simon Wiesenthal and truly serve as a politically-free 'Court of last resort' for the victims and not for the perpetrators," concluded Samuels.