Buenos Aires and Paris, 23 May 2019
The Latin American Football Confederation (Conmebol) Disciplinary Court has fined the Chilean Football Club "Palestino" $30,000 for having used an international match "to carry out unsportsmanlike demonstrations". It was also warned in the event of repeating the violations of an equal nature.
On April 2, 2019, the official stadium spokesman for a match against Alianza Lima of Peru, broadcasted a call to the public to support "the liberation of Palestine".
This was not the first such occasion. Last time, the number "1" on the club's teeshirt, was superimposed by a so-called "map of Palestine", thus wiping Israel off the map. This had served as grounds for a former sanction by the ANFP ( National Association of Professional Soccer) of Chile together with the Conmebol.
"We hope that the application of sanctions will result in the leaders to dedicate only to sport as an activity that builds bridges, instead of continually using it as a means of hatred and violence. National federations and CONMEBOL must work with our 11-Point Program against Racism, Discrimination and Xenophobia in Sport, under the auspices of the Organization of American States and unanimous support of the 23 countries of the Latin American Parliament," said Dr. Ariel Gelblung, Representative of the Wiesenthal Center for Latin America.
Dr. Shimon Samuels, the Centre's Director for International Relations, commented: "Chile has the largest Palestinian community outside the Middle East"... "Indeed, the Palestinian Football Club was founded by Jewish immigrants to Chile fleeing Nazi Germany, as the only Palestinians at that time were the Jews living under the British Palestine Mandate"... continuing: "The Club was taken over by the Arab community only after the 1948 independence of Israel"... "The Wiesenthal Centre is dedicated to combatting incitement on the football terraces, whether in Europe, Latin America or the Middle East."
"The Centre exposed a former case of Palestino Football Club's purchase of major Chilean newspaper space calling for Israel's demise," concluded Samuels and Gelblung.
See teeshirt below and (https://www.infobae.com/america/america-latina/2017/06/13/la-campana-de-odio-de-la-federacion-palestina-de-chile/)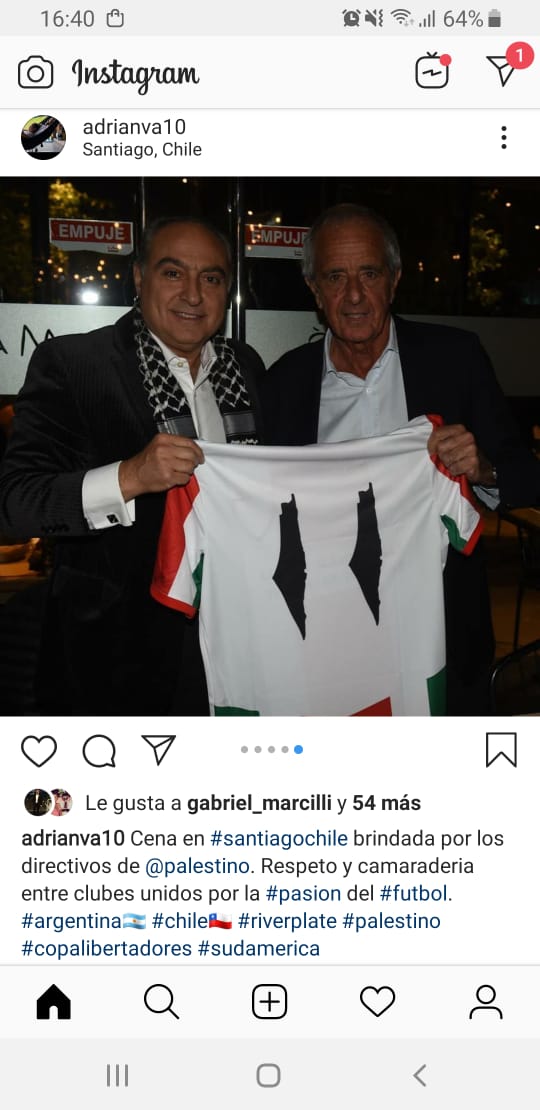 Photo posted on April 23, when Palestino received River Plate of Argentina.