"It took a Holocaust bank scandal to open Mobutu's Swiss bank accounts"... "Based on that precedent, the British Society of Black Lawyers sought compensation for slavery."
Paris, 5 April 2019
In a letter to British Home Secretary, Sajid Javid, the Wiesenthal Centre Director for International Relations, Dr. Shimon Samuels, applauded the announcement that the long-delayed indemnification to the so-called "Windrush" deported families has now been activated.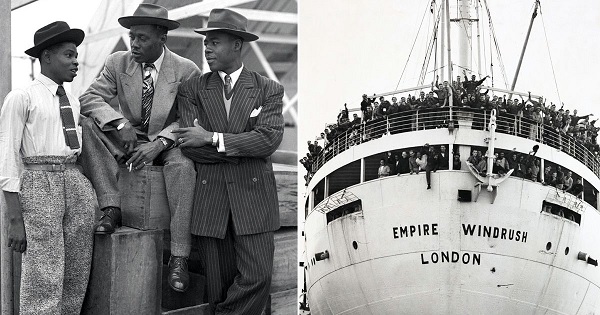 (images: coventrytelgraph.net)
In the 1990s, the Centre already viewed restitution as not exclusive to Jewish Holocaust claimants.
The Centre was approached by survivors of slave forced labour, Sinti and Roma, Gays and even officials from Hungary, Italy, Spain and Turkey regarding lost gold.
Samuels argued that "an evolving jurisprudence was emanating from the Holocaust issues of looted art, bank accounts and property... a financial analyst noted: 'During Kabila's march on Kinshasa, it took a Holocaust bank scandal to open up Mobutu's Swiss accounts'."
The letter continued, "based on that precedent, in 1998 the British Society of Black Lawyers turned to us for advice on seeking compensation for slavery."
Samuels continued, "though principally referring to Africa, mention was made of the thousands of Caribbeans brought to England on the SS Windrush as cheap labour from 1948 until 1971. Promises of a British passport were not honoured, passports granted and job permits were cancelled and finally, after years on British soil, they were deported 'home!' – mostly to Jamaica."


(images: keepthefaith.co.uk and Steve Eason/Flickr.com)
Their case became known as "the Windrush scandal" and the victims known as "the Windrush generation."
The Wiesenthal Centre considered that "somehow, despite the agonies of Brexit, the compensation law is an important first step," apparently for a total sum of £200.000 ($270.000)...
The Home Secretary has indicated that "for claims to be satisfied, it could triple that sum."
Samuels stressed that "we have learned from Holocaust claimants that each case must be treated separately with respect for those coming forward."
"Two weeks ago in leaving a conference on antisemitism in Bloomington, Indiana, the taxi driver to the airport spoke of a relative brought as a youngster to England, who at age 80 was shipped back to Jamaica, where he had no family, friends or real affinity. His progeny in England are now awaiting his return."
The Wiesenthal Centre offered "its assistance in the programme that will, hopefully, bring a justice long-delayed to the Windrush generations..."
"The taxi driver had no foreknowledge of the British government's resolution... He too will visit England for the return of the prodigals," concluded Samuels.