Tel Aviv, Israel, 1 March 2019
Simon Wiesenthal Centre Director for International Relations, Dr. Shimon Samuels, and European Project Manager, Alex Uberti, attended the 2019 Muni-Expo gathering in Tel Aviv. Some 200 Israeli and 150 plus international Mayors were treated to a cutting-edge display of equipment for municipal services and anti-terrorism security.
Last year, the Centre brought two Israeli mayors to join ECCAR's over 150 member-cities: the Lower Galilee Regional Council and the Bedouin town of Shibli Umm Ghanem.
This year, meetings were held with Israeli cities twinned with counterparts in Europe, such as Ramat Gan and Strasbourg (also seat of the Council of Europe and of the European Parliament), Netanya and Dortmund or Kiryat Shmona and Nancy.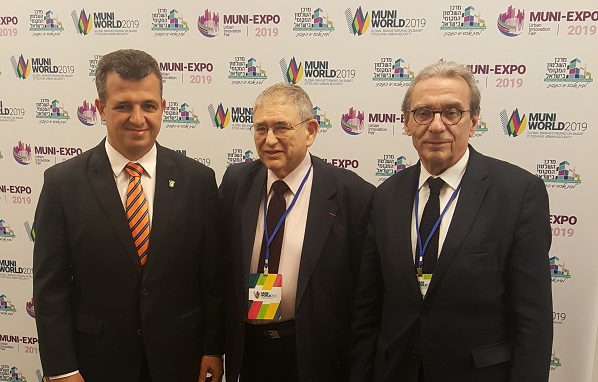 Dr. Shimon Samuels (centre) with Carmel Shama HaCohen, Mayor of Ramat Gan
and Former Israeli Ambassador to UNESCO (left), and Roland Ries, Mayor of Strasbourg
and President of French United Local Governments (right).
"While governments adopt regional - in this case EU - policies regarding Israel, cities share municipal challenges in security, culture, sports, youth, education, etc... The nitty-gritty of common problems and city-to-city mutual objectives," noted Samuels, adding, "we are looking towards a multiplier effect for our '11-Point Programme Against Racism in Football and Sport' and for the itinerary of our exhibition 'People, Book, Land: the 3,500 Year Relationship of the Jewish People with the Holy Land'."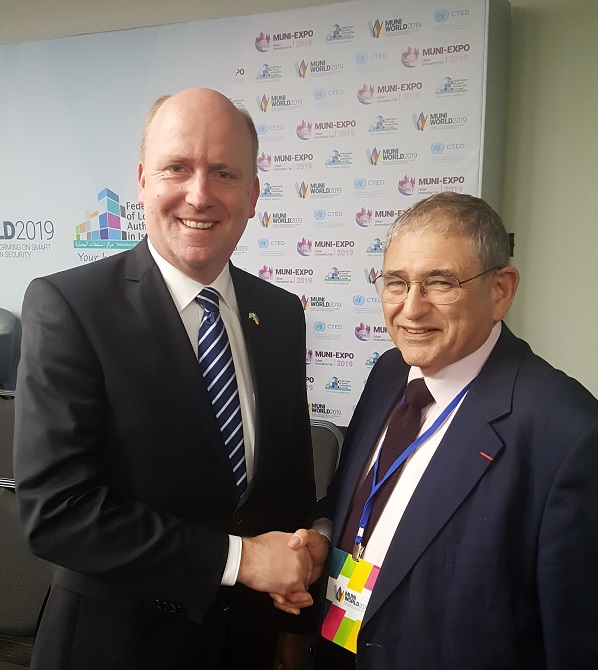 Samuels with Uwe Becker, Mayor of Frankfurt.
The Centre congratulated "the organizers of Muni-Expo for their initiative in founding an 'International Coalition of Mayors Against Antisemitism, Extremism and BDS', which would be an important asset in the work of ECCAR."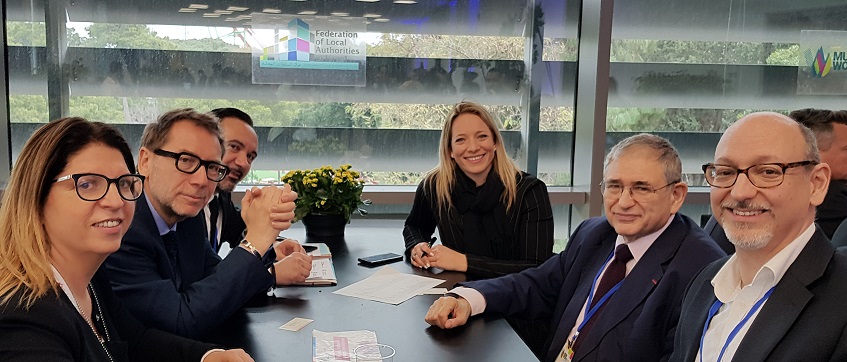 (left to right) Shiri Haguel Saidon, Deputy Mayor of Netanya; Frank Pilcer, Councillor for Culture and Human Rights of Nancy; Franck Porterat, vice-President of ECCAR; Michal Shahaf, Advisor for Foreign Relations of Netanya; Shimon Samuels and Alex Uberti.
Samuels also discussed the exhibition and other Wiesenthal Centre projects with officials from Nairobi, Kenya.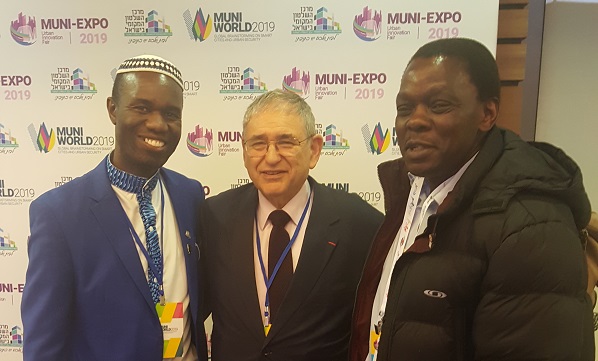 Samuels with Joshua Hakim Oyaya, Youth President of Africa-Israel Initiative,
and Okotch Mondoh, CEO of Africa Business Initiative, Kenya.
"Many visiting mayors plan to return to Israel for the Eurovision song contest in May. Tel Aviv municipality is training volunteers to welcome the visitors in a variety of languages... We began such hospitality through ECCAR and Muni-Expo," concluded Samuels.

Welcoming the Nancy delegation (left to right): Alex Uberti; Benedetto Zacchiroli; President of ECCAR; Jean-Michel Berlemont, Deputy Mayor for International Relations of Nancy; Shimon Samuels; Laurent Hénart, Mayor of Nancy; Dr. Graciela Vaserman Samuels, Advisor to the Director-General of UNESCO; Frank Pilcer, Councilor for Culture and Human Rights of Nancy; Franck Porterat, vice-President of ECCAR.