Blog by Dr. Shimon Samuels published in The Algemeiner
23 July 2018
https://www.algemeiner.com/2018/07/23/pursuing-justice-for-the-amia-bombing-victims-24-years-on/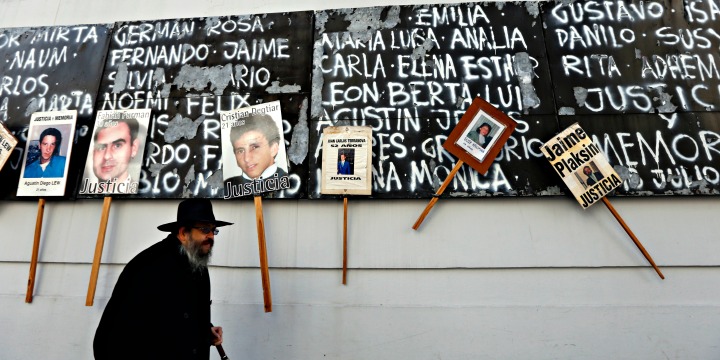 A display in Buenos Aires of pictures and names of victims of the 1994 AMIA bombing,
in which 85 people died and hundreds more wounded. Photo: Reuters/Marcos Brindicci.
In the aftermath of the Six Day War in 1967, my new Argentine wife and I flew to Buenos Aires to meet her family. This began an intimate relationship with the country and its Jewish community.
On a working trip during the late '70s when Argentina was under a military dictatorship, I visited news editor and journalist Jacobo Timerman in his jail cell to discuss his eventual release to Israel, thus establishing a difficult relationship with his son Hector, who was destined to become Foreign Minister and play a disturbing role in the AMIA case.
In February 1992, I was invited by then President Menem to examine the newly opened "Nazi files" on war criminal fugitives in Argentina.
A month later came the attack on the Israeli embassy in Buenos Aires, killing 29 and wounding 242. Credit was claimed by Islamic Jihad, linked to Iran, and Argentine investigators believe it was planned by Hezbollah in the Triple Frontier region between Argentina, Paraguay, and Brazil. That was followed in July 1994 by the AMIA Jewish Center bombing, with 85 dead and over 300 wounded.
The late Simon Wiesenthal worked with INTERPOL on several of his investigations. He relished the irony that its wartime predecessor the ICPC had as its president a high-ranking Nazi, Reinhard Heydrich.
It was thus natural for the Wiesenthal Center to support the INTERPOL "Red Notice" arrest warrants issued for one Lebanese and five Iranian officials implicated in the AMIA atrocity.
Most of the INTERPOL-sought accused have scaled the ranks since 1994. They include:
- Senior Iranian officials, such as Mohsen Rezaei (then-IRGC Commander in Chief) and cleric Ali Fallahijan (then-Minister of Intelligence), who met and allegedly planned the attack.
- Diplomats who fled Buenos Aires days before the bombing, namely Ahmad Reza Asghari (then-chief of clandestine networks in Argentina) and cleric Mohsen Rabbani (then-Iranian Embassy Cultural Attaché).
- Former Defense Minister Ahmad Vahidi (then-IRGC Chief of the Al-Quds External Operations Brigade) and Lebanese International terrorist Imad Mughniyeh (founder of Islamic Jihad and Hezbollah's number two leader) killed by a car bomb in Damascus in 2008.
In addition to INTERPOL warrants, several countries — among them Belgium, Israel, Spain, and the United Kingdom — evoke universal jurisdiction over accused persons, regardless of nationality, residence, or wherever the crime was committed. Britain's renewal of diplomatic relations with Iran made it an interesting test case.
In partnership with the Henry Jackson Society, the Wiesenthal Centre marked the 24th anniversary of the 18 July AMIA attack with a round table in the House of Lords, at which I was present. It was dedicated to the memory of the "86th victim," Prosecutor Alberto Nisman, who was assassinated in January 2015 on the morning he was due to present a report to an Argentine Congress committee that accused then President Cristina Fernandez de Kirchner, Foreign Minister Timerman, and other officials of conspiring with Iran to cover up its role in the AMIA bombing.
Our session was chaired by Lord Trimble, who received the Nobel Peace Prize for crafting the "Good Friday Agreement" for Northern Ireland. Messages were read from current AMIA President Agustin Zbar and Organization of American States Secretary-General Luis Almagro. Argentine Ambassador to the UK Carlos Sersale di Cerisano read a message from his Foreign Minister, Jorge Marcelo Faurie.
Anita Weinstein, an AMIA official and survivor of the bombing, presented a moving testimony: "The explosion left me on an open ledge above the carnage below. … I had become the target of hate, I, the daughter of Holocaust survivors. …Nevertheless, in the face of so much hate, violence, and murder, I chose life!"
Terrorism expert Tom Wilson noted how "British soldiers were killed in both Afghanistan and Iraq with weapons provided by Iran. … Al-Qaeda operatives sheltered in Iran guided low-tech, lone-wolf stabbings and car rammings in the UK."
Dr. Ariel Gelblung, Advocate and Wiesenthal Centre Latin America Representative agreed with Michael Caplan QC, a British expert on extradition, that "if any of the Iranian suspects were to land on British soil, in view of the INTERPOL Red Notices, they must be stopped and detained. The British Police would then inform Argentina, whereupon Buenos Aires would issue a request for arrest and extradition hearings."
In closing, I referred to the commitment of the Argentine Foreign Minister in his message to act immediately. I feel confident that our House of Lords event was an important step in the pursuit of justice for the families of the AMIA victims and survivors. If the guilty are apprehended in the UK, an arrest warrant issued by an Argentine judge would bring those affected hope for closure and serve as a catalyst for extradition.