Vatican City, 2 December 2015

Ambassadors from 20 nations joined Rome's Chief Rabbi, Cardinal Kurt Koch, academics and students at Vatican City's Pontifical Urbaniana University for the launch of the Simon Wiesenthal Center's historical exhibition, People. Book. Land. The 3,500 Year Relationship of the Jewish People With The Holy Land.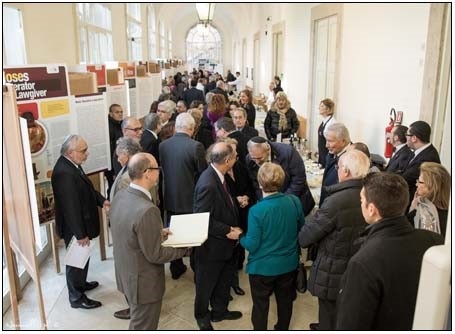 The exhibition, which was authored by the late Professor Robert Wistrich, is the first to have the formal endorsement of a UN agency — UNESCO. It's initial opening at UNESCO headquarters in January 2014 was blocked after the formal protest of 22 Arab states. Six months later, it was opened at UNESCO world headquarters in Paris by its Director General Irina Bokova. It has subsequently been presented at UN headquarters in New York, U.S. Congress, and earlier this week at Israel's Knesset in Jerusalem.

The Vatican event was held in conjunction with the University's program commemorating the 50th anniversary of Nostra Aetate, the historic Church document that changed the course of Catholic - Jewish relations.

In his remarks at the opening, Rabbi Abraham Cooper, the Center Associate Dean and the exhibition's project director said, "Such an exhibition at the Vatican would have been unthinkable before Nostra Aetate, before Pope John XXIII, before Pope John Paul II, before Pope Francis. We are thrilled that so many students and clergy will have an opportunity to learn about the Jewish People, its values and its land".

Dr. Shimon Samuels, the Wiesenthal Center's Director of International Relations added, "This exhibition at the Vatican highlights the ethical values and fundamental rights contributed to humanity throughout Jewish history. It serves as a pedagogical instrument in the struggle against resurgent anti-Semitism, particularly in Europe. Will hope this pivotal event will reinforce true Interfaith cooperation in the spirit of Nostra Aetate."

Francesco Bandarin, UNESCO's Assistant Director General for Culture told the gathering that historic truth was a key for peace.

The exhibition will continue be on display for the next two weeks.