"The Embassies of United States and France are joined by UNESCO at their dedicated pavilions amidst the vilest antisemitic and conspiracy theory titles at the Doha International Book Fair."
Paris, 7 December 2016
In a letter to Salah bin Ghanem bin Nasser Al Ali, Culture and Sports Minister of Qatar, the Simon Wiesenthal Centre Directot for International Relations,Dr. Shimon Samuels, expressed outrage at the continued display of titles inciting to hatred of Jews at the Doha International Book Fair (DECC).
Samuels noted that "this year, the Fair concludes on 11 December thus leaving time for removal of these antisemitic and conspiracy theory books:
Dar al-Kitab al-Arabi (Booth C70)
1- Money and Business Barons, by Abd al-Moein al-Shawaf (Jews control world finance and economy...)
2- Theodor Herzl... Zionism Devil and Modern Era Satan, by Essam Abd el-fatah and Mohammed Suefy Abdallah
3- Pharaoh Owner of Stakes... Judaization of History and Land... Lie of the Promised Land, by Ahmed Saadeddin
4- The Rothschilds, by Magdy Kamel
5- The International Jew, by Henry Ford and translated by Youssif Rashad
6- 'Who Creates Dictators?', by Majdi Kamel (Hitler, Stalin, Mao, Franco, Idi Amin, Bokassa, Noriega, Saddam Hussein, George W. Bush as creatures of the Jews)
7- Mein Kampf, translated by Farid al-Falluji
8- The Other Face of Hitler, by Fareed al-Falluji/Hasan Hamdy
9- The Israeli Intelligence Crimes, by Evgeniy Korshunov and translated by Adnan Gamous
10- The Mossad... Secrets of the Dirty War to Assassinate Leaders, by Adel El-Gogary
11- Zion Leaders... Documents, Photos and Confessions, by Magdy Kamel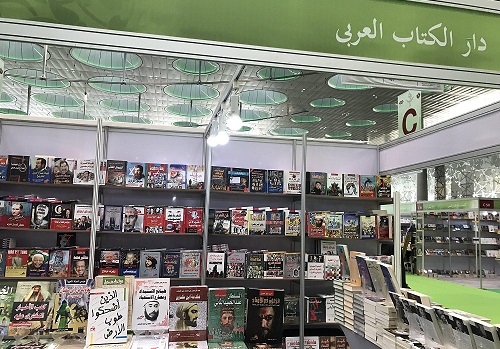 Arab Center for Research and Policy Studies (Booth C1).
12- The Sacred Crime: Genocide from the Ideology of the Hebrew Book to the Zionist Project by Essam Sakhnini, published by Arab Center for Research and Policy Studies in 2012
https://en.wikipedia.org/wiki/Arab_Center_for_Research_and_Policy_Studies
This book addresses the allegations surrounding the history of mass murder and persecution which the Jews were subjected to throughout history. The author believes that some of these allegations, belong to the world of fairy tales that have not been historically proven, others underwent an exaggeration and hype.
Books focuses on genocide mentality in the Jewish religious book and Zionist movement towards the Palestinians (and others).
Source: Doha Institute (publisher) - https://bookstore.dohainstitute.org/p-67.aspx
Samarkand Publishing (Booth B33)
13- Daughter of Zion, by Dr. Sherif Shaban published - Kayan Publishing (Note: Samarkand is displaying books on behalf of Kayan and four other Egyptian publishers).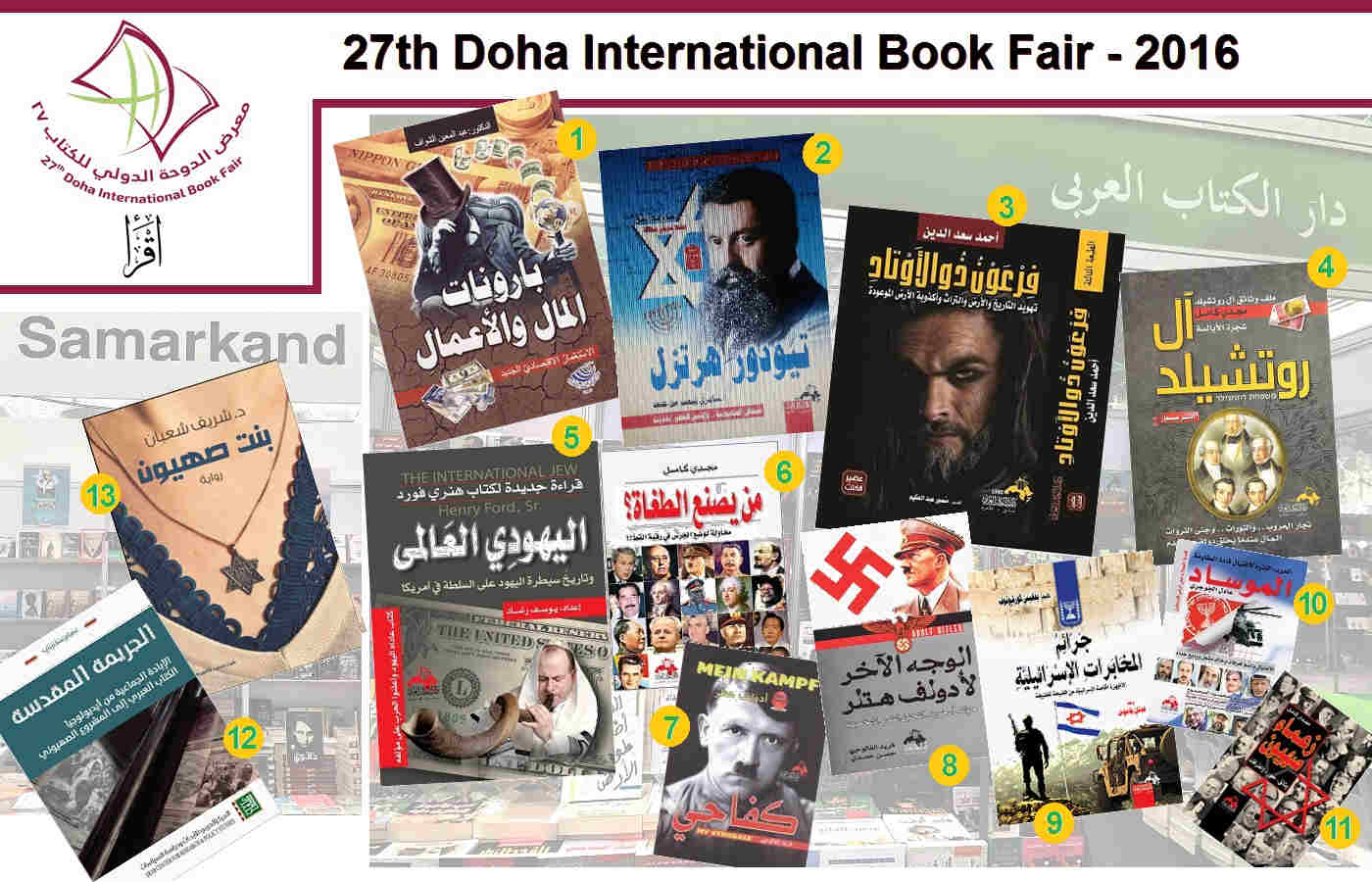 The letter added, "even more worrying is that a search for '27th Doha Book Fair 2016' brings up YouTube of the 28 November preparations and in the margin, among others, a link to an almost two hour film entitled 'Synagogue of Satan - Marching to Zion: The Jews exposed'!"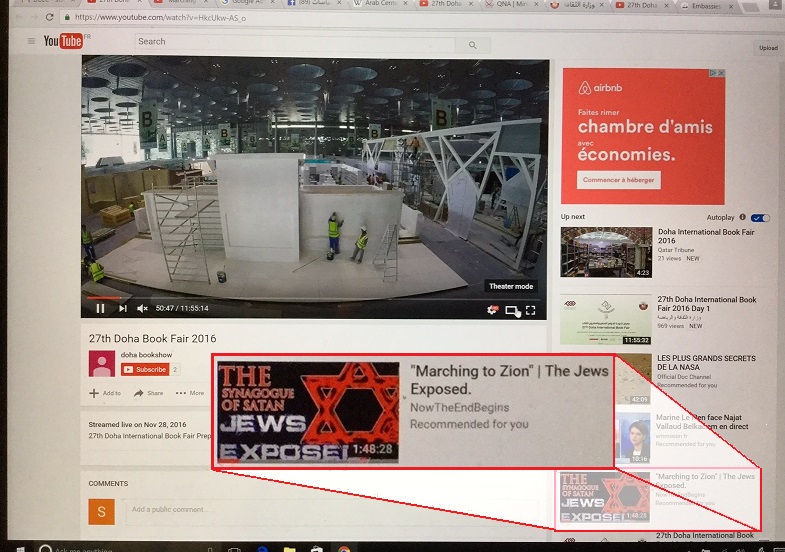 The letter continued, "just as our organization would express outrage at anti-Islamic material, we request you to take measures to proclaim that Qatar rejects incitement to hatred and violence against Jews."
The Centre added, "we are aware that the DECC contract with exhibitors contains a clause prohibiting any publication that insults Islam, we urge you to add Judaism, Christianity and other faiths to create a platform of solidarity among all believers. Continued manifestations of hatred at the DECC can not serve Qatar's image or interests."
The letter concluded, "Mr. Minister we look forward to hearing from you in cooperation against all forms of bigotry."
Samuels expressed special indignation that, "the Embassies of United States and France are joined by UNESCO at their dedicated pavilions amidst the vilest antisemitic and conspiracy theory titles at the Doha International Book Fair."
The Centre's protest was shared with the United States Ambassador to France, the French Foreign Minister and the Director-General of UNESCO.