Paris, 4 January 2023
In a letter to French Interior Minister, Gerald Darmanin, Wiesenthal Centre Director for International Relations, Dr Shimon Samuels, expressed shock at the news that "Avignon will host, next Sunday 8 January, a conference with three known radical Islam preachers."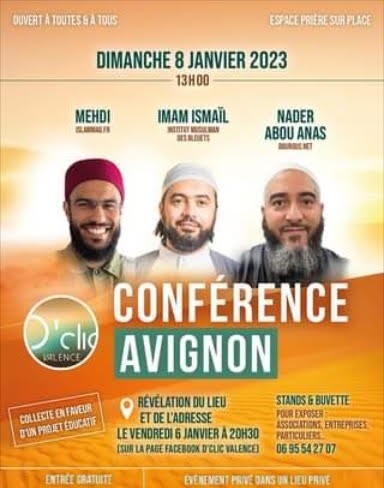 The ancient "City of the Popes" and scene of the worldwide-known annual arts festival held every July since 1947, is set to become the stage for:
- Imam Ismail, who laments the shortage of Islamic schools "for the over 300,000 Muslims in Marseille"
- The preacher Mehdi Bouzid, who had commented that women wearing outfits that highlight the shapes of their bodies "are inhabited by Satan!"
- The preacher Nader Abou Anas, who instructs women to observe the greatest modesty, to live in seclusion, specifying that "they have to obey their husband" and that if they refused to accept his needs, "they would be cursed."
The letter continued: "Mr. Minister, are these apparently 'Salafist' preachers claiming that public schools are at fault because they educate all children to religious tolerance and mutual respect? Will this trio be allowed to repeat their sexist remarks in an Avignon echo chamber? Moreover, will their inherent incitement to hate not lead others to violence?"
Radical Imams or preachers who had expressed antisemitism, condoned terrorism or held French law in contempt, have been stopped often too late, as in the case of pro-Hamas campaigner Abdelhakim Sefrioui – who is under trial for inciting the October 2020 murder of teacher Samuel Paty – or of Hassan Iquioussen, who has been expelled from France, due to his Muslim Brotherhood propaganda in suburban Paris.
Among the most recent videos on Abou Anas' websites, is his interpretation of the Hadith on "The Man who Committed 99 Murders!" This narration is chilling, as it depicts the "Merciful Almighty!" calling the faithful to pardon even mass murder as long as the perpetrator repents, flees evil influences and becomes a good Muslim.
Apart from the apparently frightful trio, what makes this event even more worrying?
1) The invitation to the conference indicates the date, but not the venue, that "will be revealed Friday evening" on the organizer's (D'Clic Valence) Facebook page. Why so elusive?
2) Apart from the three "Imams", the invitation (on Facebook, but not on the poster) indicates a fourth "surprise guest". Who could that possibly be?
3) The conference had already been cancelled last November, because among its sponsors was the NGO "Barakacity", banned in 2020 by the Conseil d'État (the French Supreme Administrative Court). The sentence stated, "[this organization] incited hatred, maintained relations within the radical Islamist movement, and justified terrorist acts." Claiming its mention and logo was a simple misstep, now Barakacity no longer figures among the sponsors. But is it still active – reportedly underground – despite the ban?
The letter stressed that, "The reputation of the invitees, compounded by the organizers' evasiveness – similar in style to the 'clandestine tours' of antisemitic comedian Dieudonné – forewarn a clear and present danger in the city of Avignon."
"Mr. Darmanin, we urge prompt scrutiny by the Security Services of your Ministry, before this event unrolls. An Islamist conference cannot be yet another occasion for bigotry, prejudice and antisemitism to pollute the secular, tolerant and multicultural French Republic... Avignon must not become a stage for radical Islam," concluded Samuels.
* * *
For further information, contact Shimon Samuels at csweurope@gmail.com