Paris, 25 June 2023
Mr. Prime Minister,
Our Centre commends your meeting of last week, on "Safety and Security for Jewish Life in Sweden".
However, this week, Sweden did not join the group of 27 countries – led by the United States – calling for accountability of the Commission of Inquiry (COI), that represents a tool of Jew-hatred within the UN Human Rights Council in Geneva.
We are bringing to your attention the case of Hani Dweik, Communication Officer at the Swedish Dialogue Institute for the Middle East and North Africa.
Mr. Dweik, a Swedish State official, patently and openly supports BDS (the Boycott, Divestment, Sanctions campaign targeting Israel), and contradicts the IHRA (International Holocaust Remembrance Alliance) Definition of Antisemitism, a document that has been adopted by Sweden.
Apparently, in other statements, he considers that Israel has no right to exist.
Some recurrent examples, from his own Twitter and Facebook accounts, include brutal statements:
- "The state of Israel is nothing but a state of colonialism and apartheid. So, please Israel stop playing victim..."
- "Good luck guys with fighting the most vicious terrorist state in the world. The whole world must know and realize the hideous crimes committed against the indigenous people of Palestine. Keep up the good work..."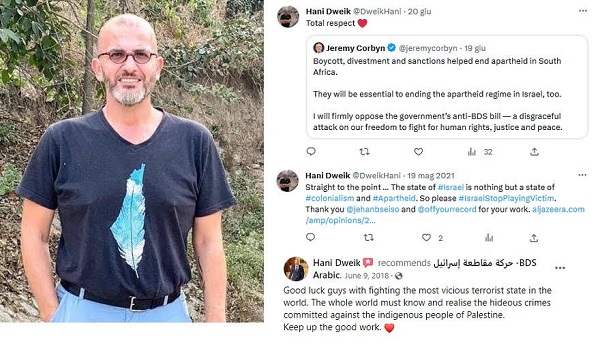 Dweik wearing a t-shirt depicting a stylized map of "Palestine" that clearly erases Israel... and some of his posts online.
Please note, just a few days ago, his "Total respect " for the former leader of the Labour Party,
British MP Jeremy Corbyn, who has been himself at the heart of a scandal of alleged antisemitism
and is still peddling BDS. This is sadly revealing.
Mr. Prime Minister, for the Jewish people, boycott is encrusted in its collective memory. It recalls "Kristallnacht" (the Night of Broken Glass), the 1938 Nazi pogrom across Germany and Austria, when Jewish shops and synagogues were smashed and torched and families murdered... This has become known as "the Prelude to the Holocaust".
If Dweik had been an anonymous voice on the Internet, we would only consider him as part of a statistic. But he is instead an official, representing Sweden abroad, in Amman of all places.
Israel and Jordan are at peace. Dweik's statements do not only disturb Sweden's diplomatic role in the region, but would provoke resentment from authorities in Amman, as the Monarchy's survival depends also on its relationship with Israel.
Mr. Prime Minister, Sweden organizes conferences and educational programmes on the Holocaust, and held the Presidency of IHRA, which itself was founded with the Stockholm Declaration...
Nevertheless, the safety and security of Swedish Jewry is not secured. Antisemitism runs rampant across Sweden, Europe and the Middle East, now also spread, allegedly, by an officer who is supposed to work for Dialogue in the Middle East and not for incitement. If he promotes BDS and the delegitimization of Israel, Dweik must be removed forthwith.
Most respectfully,
Dr Shimon Samuels
Director for International Relations
Simon Wiesenthal Centre
* * *
For further information, contact csweurope@gmail.com