Paris, 21 March 2023
The 20th Anniversary Conference of the BNVCA (French National Bureau of Vigilance Against Antisemitism) at the National Assembly saw the Chief Rabbi of France, several political representatives, philosophers, experts and journalists discuss the evolution of antisemitism in France.


Shimon Samuels (right) speaking on panel with philosopher Shmuel Trigano (left). Photo Alain Azria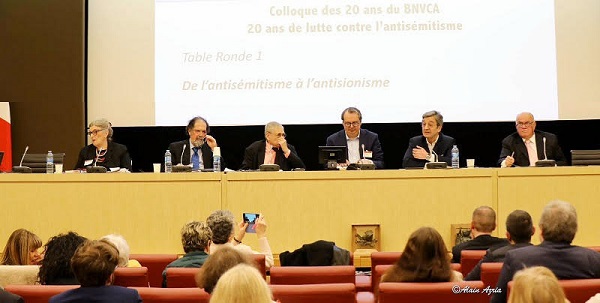 BNVCA conference at the National Assembly, panel "From Antisemitism to anti-Zionism"
(left to right) Danielle Guerrier of the Diocese of St. Denis, philosopher Shmuel Trigano, Shimon Samuels,
journalist Michel Zerbib, lawyer Marc Bensimhon, Dov Zerah, former President
of the Consistory of Paris (photo Alain Azria).
The Wiesenthal Centre was represented by its Director for International Relations, Dr Shimon Samuels, who focussed on antisemitism as an element of terrorism. Here is a summary of his speech:
As we approach Passover, we recall that the Lord took us out of Egypt with "a clenched fist and an outstretched hand."
The particularity of France, in the European context, is that it has both the largest Jewish and Muslim communities in Europe.
Retracing history, from the 1970s to the early '80s there were 73 attacks on Jews across Western Europe, of which 29 in France alone, from the bombing of the Copernic synagogue to the massacre at the Goldenberg restaurant.
In most cases, the terrorists were trained "professionals" imported from the Middle East or European extremists carrying out murderous hijackings, as at the Munich Olympics or during the Entebbe airport crisis...
The August 1982 Israeli entry into Southern Lebanon, put an end to training of European terrorists, who fled back home. Needing money, they attacked banks and Embassies. Carlos the Jackal was the role-model of these criminal/terrorists.
Governments cracked down, thus ending this first wave of terrorism.
The second wave was enacted by native-born radicalized Muslim youth, playing a game of "Palestinians vs. Israelis" – their local target were Jewish neighbours.
The third wave began with the extreme left espousing Judeophobia. Meanwhile, "lone-wolf Jihadis" were attacking Jews, as in the cases of the Toulouse elementary school or the Kosher supermarket in Paris, only two days after the attack on Charlie Hebdo.
Jewish individuals were being assaulted, tortured and murdered, as in the case of Ilan Halimi, Sarah Halimi and Mireille Knoll...
A fourth wave is upon us, with the theft campaign of Jewish identity. The validation of "Palestine" can only exist through the systematic erosion of the Jewish narrative, appropriation of heritage sites, delegitimization of the State of Israel and threats against the Diaspora.
This Passover will sadly require "the clenched fist!"
* * *
For further information, contact csweurope@gmail.com