Paris, 14 March 2023
Wiesenthal Centre Director for International Relations, Dr Shimon Samuels, participated in a meeting, organized by the Anglo-American Press Association in Paris, with Gen. (ret.) Jean-Paul Paloméros, former NATO Supreme Allied Commander Transformation.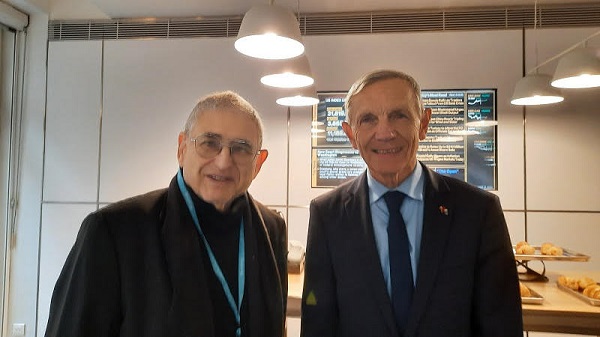 Samuels with Gen. Paloméros
The main focus of the meeting was the current conflict in Ukraine. Paloméros viewed the situation as leading to a new Iron Curtain and Cold War, drawing the Allies closer in solidarity with Ukraine and investing more in security. The military budget 2% pledge, has now been implemented by the majority of NATO member-States.
As a former Chief of Staff to President Macron, he discussed the Russian presence in the Sahara, the Sahel and the Mediterranean basin (Libya, Mali, Central African Republic, Syria, etc.), through elements such as the Wagner Group, the infamous private military company.
France is therefore now in a form of war, losing terrain in what many perceived as its own backyard.
The General responded to Samuels' question on the Iran-Russian connection, particularly in a nuclear scenario. He viewed this as a Cold War legacy, tense at a terrible risk for the Middle East, Europe and the West.
In closing, he focused on cyber-attacks, the use of drones and AI, as well as other new or asymmetric forms of warfare.
* * *
For further information, contact us at csweurope@gmail.com