20 September 2022
Madame Audrey Azoulay, Director General
UNESCO, Paris
Madam Director General,
We write to you as an NGO Associate Partner of UNESCO. We understand that last week the newly appointed Director for Iran, Afghanistan, Pakistan and Turkmenistan, Golda El Khoury, arrived in Tehran.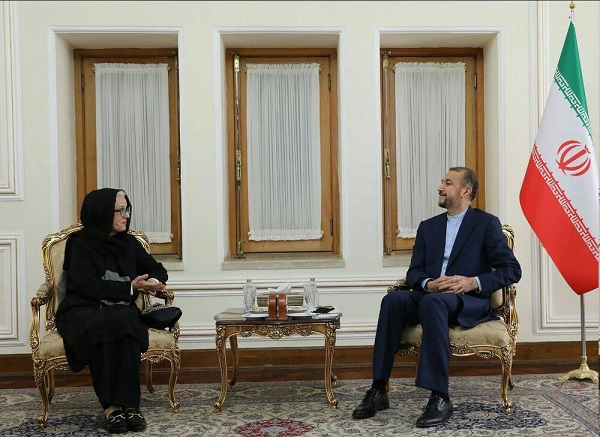 Golda El Khoury with Iranian Foreign Minister Amir-Abdollahian, discussing
cultural heritage, education and women, 13 September 2022 (source: ISNA).
Lebanese-born Madam El Khoury has an excellent experience in the Muslim world, having served in Morocco, Algeria, Libya, Mauritania and Tunisia.
Iran, however, will be the most challenging, as shown in her first meeting with the Islamic Republic's Foreign Minister Hossein Amir-Abdollahian who, among other issues, spoke of the "freedom" of women. An irony on the day 22-year-old Kurdish-Iranian Mahsa Amini was arrested by the so-called "Morality Police" for not wearing her headscarf properly... and beaten to death!
We are concerned at the invitation to Iranian President Ebrahim Raisi – colloquially known as "the butcher" in prisons, including the one based in a former UNESCO school – to address the UNESCO Transforming Education Summit.
Madam Director General, Raisi has claimed that the Islamic Republic has codified an "Iranian-Islamic educational philosophy, not relied upon the one-dimensional secular approaches in the 2030 UNESCO document."
Is this an education based upon antisemitism, Holocaust denial, the glorification of terrorism, the abuse of women's rights, tourists held hostage, the execution of children, public hangings and nuclear genocide?
Madam Director General, UNESCO is the wrong place for "the butcher" to express his policies and is unsafe for your representative. Golda El Khoury should be called home.
Most respectfully,
Dr Shimon Samuels
Director for International Relations
Simon Wiesenthal Centre
* * *
For further information, contact Shimon Samuels at csweurope@gmail.com
Please leave us your comments on https://twitter.com/wiesenthaleuro1