Paris, 1st August 2022
At the UN's Human Rights Council in Geneva, Miloon Kothari is one of the three members of the newly established Commission of Inquiry (COI) into the "Grave Human Rights situation in the Occupied Palestinian Territory, including East Jerusalem and in Israel."
In a revealing interview (see press release dated 28 July below), Kothari railed against the "Jewish lobby," falsely accused Israel of "apartheid" and even questioned Israel's right to be a member of the United Nations.
The Simon Wiesenthal Centre has called upon UN democracies to express their position on such blatantly antisemitic statements. Not much could be expected from non-democratic countries.
To date, Kothari's remarks have received firm condemnation by the UN Delegations of Austria, Britain, Canada, the Czech Republic, Germany, the Netherlands, the United States and France. Their comments included words such as "shocking, one-sided, unacceptable, outrageous, disproportionate, inquisition, offensive, biased, disgrace... antisemitic." Argentina's Ambassador and President of the UNHRC rejected the meek justifications of Kothari's remarks by COI Chair, Navi Pillay.
In particular, the French Mission to the UN in Geneva posted the tweet below, that reads:
"We must be 'uncompromising in the contemporary fight against antisemitism' as President Macron reminded us. Strong disapproval of the remarks of Miloon Kothari, member of the Commission of Inquiry on OPT & Israel."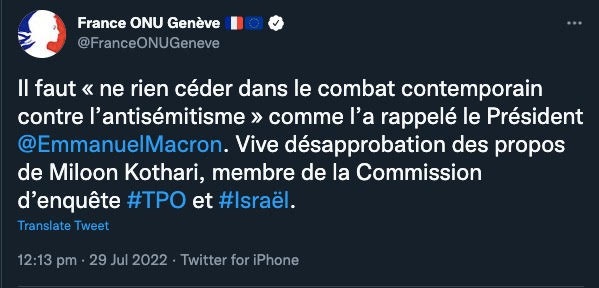 From the ISGAP international "Conference on Global Antisemitism" in Cambridge, the Wiesenthal Centre's Director for International Relations, Dr Shimon Samuels, greeted the French firm stance in the face of manifest antisemitism.
"This is not a negligible matter," commented Samuels, "in particular considering France's diplomatic prudence and traditional approach on Middle East issues... This proves, if necessary, that Kothari is supplementing the already biased position of the COI with antisemitic tropes that are totally unacceptable."
"We have repeated for several years now that any form of peace must go through constructive dialogue among the parties involved, based on truth and good-will. There is no space for threats, intimidation, violence on the ground or political manipulation through the UN system. We expect the COI and Kothari to be held fully accountable for such blatant antisemitism," concluded Samuels.