Paris, 13 May 2022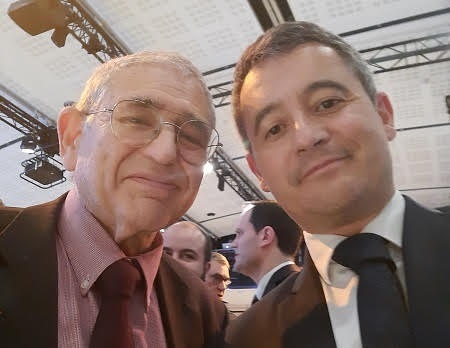 Samuels with French Interior Minister Gerald Darmanin.
"Antisemitic terrorism in France originated in the 1970s and 1980s with professional killers drawn to Europe from the Middle East, covered by European extreme-left militants trained by the PLO in Lebanon," stated Dr Shimon Samuels, the Wiesenthal Centre's Director for International Relations.
Examples included plane hijackings, synagogue bombings, targeted murders. The transplantation of the 1st Intifada to Europe eventually went beyond Jewish victims, to include bank heists, attacks on government, diplomatic and military facilities and personnel... such as those perpetrated by Carlos the Jackal. Only then the authorities – President François Mitterrand and Prime Minister Jacques Chirac – cracked down on general terrorism.
From the year 2000, the 2nd Intifada saw copycats throughout Europe, attacks on Jews and Jewish institutions went viral. In France, the perpetrators were mainly French native-born Islamists from immigrant families, as per the Toulouse school massacre, the torture to death of Ilan Halimi, the targeted murders of Sarah Halimi and Holocaust survivor Mireille Knoll in their homes, the Paris Kosher supermarket hostage killings... along with the parallel massacre in the office of the Charlie Hebdo weekly magazine, as a revenge for its publishing caricatures of Mohammed.
President François Hollande's Government responded by imposing a "State of Siege," placing the military at the doors of Jewish schools, synagogues and other institutions.
In a meeting with then French Interior Minister, Bernard Cazeneuve, Samuels noted: "Mr. Minister, you publicly announced the number of military, police and plain-clothes officers deployed after the terrible Charlie Hebdo and Kosher supermarket attacks... Please, the day you remove them, at least state that plain-clothes agents remain, even if there is not even one. It will serve as a deterrent!" The military were indeed removed, but the plain clothes promise was not kept.
Today, the Islamic State (ISIS) has threatened a new wave of violence against the Jews of France. At a dinner in Paris, Samuels thanked Interior Minister Gerald Darmanin for closing down Jihadist mosques across France and launching new rules facilitating compliance of Islamic institutions with the French law. He also raised the issue of renewed protection of Jewish institutions... "Now, ISIS is upon us! Is the 3rd Intifada to begin in France?" concluded Samuels.