Is the tragic death of a young Jewish man, at first dismissed as an accident, the consequence of antisemitic assault?
Paris, 4 April 2022
The Wiesenthal Centre Director for International Relations, Dr Shimon Samuels, recalled his conversation with Minister Darmanin at the annual dinner of the CRIF (Representative Council of French Jewish Institutions) of 24 February. He had raised the danger of antisemitic violence in the public transport network, in particular in the "red ring" around Paris.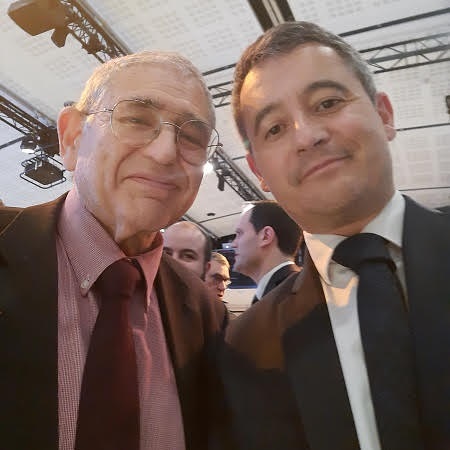 Samuels with Interior Minister Darmanin at the CRIF dinner.
One week earlier, Jérémy Cohen, a Jewish young man, had been inadvertently run over by a tramway. The tragedy had seemingly been dismissed as a nasty accident. A kippa was found next to his body. The events took place in Bobigny, a neighbourhood north of Paris with high unemployment rate, low average income and low scolarization rate.
The truth is that, apparently, only following the canvassing for witnesses by Jérémy's family, a video taken from an apartment window has become public, in which it is clear that Jérémy – who was reportedly handicapped – had been cornered and physically assaulted by a group of men – one in particular skipping into the mêlée to punch him to the ground and then pulled back by a woman.
In the confusion, Jérémy managed to get back on his feet and run away, crossing the tramway's path in a state of distress and confusion... and was killed on impact. The tram driver could do nothing to avoid him!
Jérémy's family claims that the attack was antisemitic. If so proven, the perpetrators must receive the highest sentence as a warning. Gangs assaulting the Jews, as well as the disabled, is reminiscent of the first days of Nazi terror in the towns of Germany and then throughout occupied Europe.
The enquiry should not become an issue to influence the forthcoming French election, as antisemitism is an evil that must be addressed by all parties and candidates... Likewise, there is no electoral truce that can keep this matter from being made public and immediately investigated with the full means of the police. The gang members that assaulted Jérémy Cohen must be identified, questioned and brought to face justice.