His plaque in the Chiavari Memorial Park "Giacomo Cohen Da Silva / 18-04-1875 / Auschwitz, 11-12-1943" has been desecrated.
Paris, 1 February 2022
Wiesenthal Centre Director for International Relations, Dr Shimon Samuels, recalled, "as a child, leaving British weather, we would drive every summer for vacation in Italy. Between Rapallo and Chiavari, Liguria, was a meeting ground for Jewish families from across Western Europe. Marriages were celebrated and gossip flowed. The Holocaust was thought to be behind us, as the grandchildren were to enjoy the new Europe."
"Yet, the Memorial Park in the small seaside town of Chiavari, just 30 km south of Genova, where the victims of Nazi deportation are remembered, is still with us. According to 'Primocanale.it - il sito della Liguria', Giacomo Cohen Da Silva was a prominent Rapallo lawyer. The SS arrested him on 4 November 1943, deported him from Milan on 6 December and murdered him on arrival in Auschwitz, on 11 December."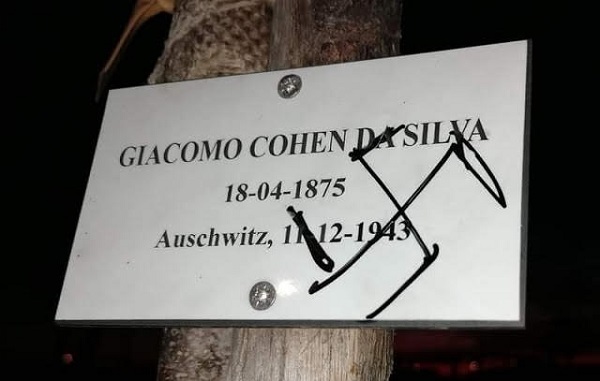 Photo lavocediGenova.it
"His plaque, covered by a swastika, is a second murder. Giacomo, as well as the other Holocaust victims of the Tigullio-Golfo Paradiso area, must be remembered. Their unique stories circulated throughout schools in Liguria."
"The perpetrators must be identified – thanks to the CCTV cameras along the beach front – and punished for this desecration. Giacomo must not be forgotten, may he rest in peace!" concluded Samuels.