"Parallel events were planned across France, Europe and worldwide... The exercise is to be repeated on 1 July."
"The Centre is in contact with the appropriate Ministries in each of the sites involved."
Paris, 27 June 2020
A mass anti-Israel rally marched through central Paris – from Barbès to Nation – organized by a coalition of Palestine - solidarity groups, including: Samidoun Palestinian Prisoner Solidarity Network, BDS France, Euro-Palestine, etc. with extreme left supporters and trade unions.
Their message: "This openly colonialist and racist regime feels ever more confident on this criminal path as world news focuses on the Coronavirus pandemic and its consequences. It hopes to deflect attention from its ongoing crimes against the Palestinian people.
"For these reasons, the organizations, engaged in the fight against racism and colonialism, called for a demonstration in Paris this Saturday 27 June... in solidarity with Palestine and its resistance."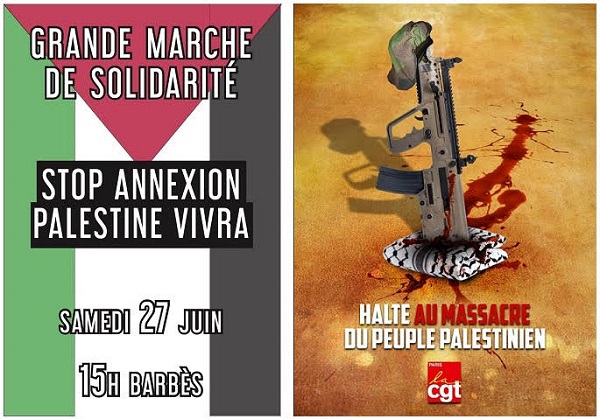 Posters in Paris, from pro-Palestinian Samidoun to trade union CGT...
The Centre has learned that parallel events were planned across France, in Marseille, Lille, Nice, Strasbourg, Ajaccio, Albertville, Auch, Auxerre, Caen, Clermont-Ferrand, Nancy, Nimes, Rennes, Saint-Etienne... but also across Europe and worldwide, in Luxembourg, Gothenburg (Sweden), Bonn and Koblenz (Germany), Vienna (Austria), and Rome, Milan, Turin, Naples, Bologna, Cagliari, Genoa, Messina, Palermo, Siracusa, Vicenza (Italy), Santa Ana (California), Toronto (Canada).
"As usual during these rallies, there is the danger of such antisemitic manifestations demonizing slogans and chants, the promotion of BDS, and, as in summer 2014, violence by turned on marchers peeling off to attack Jewish or presumed Jewish targets," declared Wiesenthal Centre Director for International Relations, Dr. Shimon Samuels.
"Apart from the chants, police in riot gear kept marchers from leaving the flanks or exiting into side streets, thus this time containing violence," he continued.
"The exercise will be repeated on 1 July... We are in contact with the appropriate Ministries in each of the European sites involved," concluded Samuels.