"In 2019, we made 107 interventions of which 36 (34%) resulted in positive change. We look forward to constantly raise that threshold."
Paris, 18 February 2020
In view of mounting and increasingly violent antisemitism we select issues where, generally, no other Jewish organisation is involved. Limited resources obviate duplication. For example, as no other is accredited to the UNESCO World Heritage Committee, we speak in the name of Judaism against the constant ID theft of the Jewish narrative. This is even more vital since the departure of the United States and Israel from UNESCO.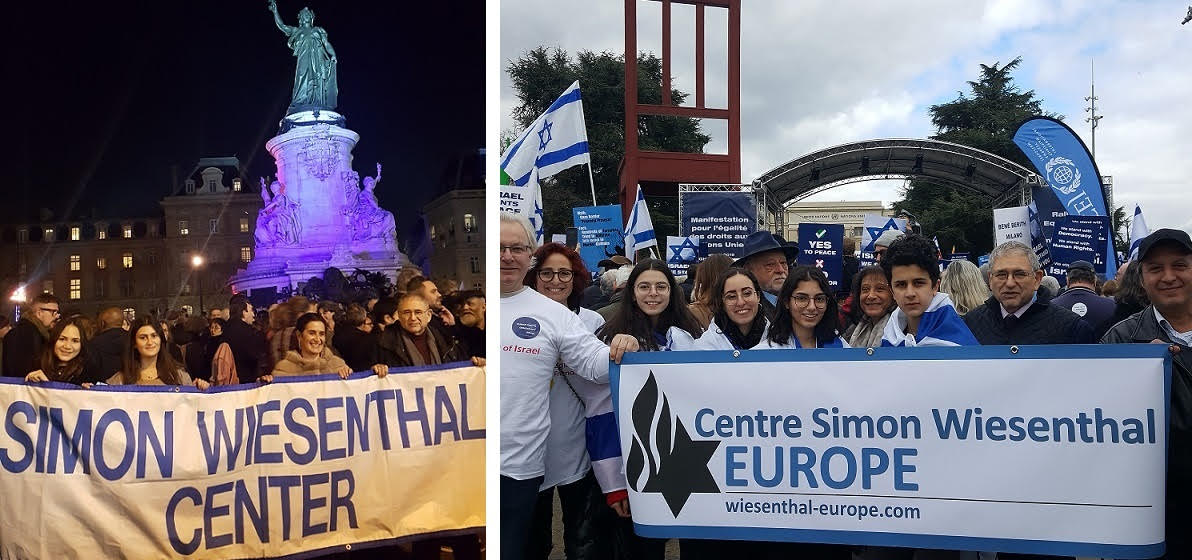 SWC at rallies: "Against Rising Antisemitism" in Paris and "Against Israel Bashing" at the UN in Geneva.
By focusing on such international institutional antisemitism we often identify and uncover essential, but missed, "holes in the cheese".
Selected Cases:
- In partnership with The European Coalition of Cities Against Racism (ECCAR) of 158 member cities throughout the Continent, we have brought in 2 Israeli municipalities and succeeded in blocking the Palestinian Football Association's campaign to expel the Israel Football Association from FIFA (International Federation of Football Associations).
- Through the World Chess Federation, Tunisia was forced to remove a ban on the participation of a 7 year old Israeli girl champion.
- Our joint conference with the Henry Jackson Society at the British Parliament, on the Argentine Jewish Centre (AMIA) bombing, killing 85 and injuring over 300, and INTERPOL arrest warrants for its Iranian perpetrators. Our aim was to achieve a commitment that if any of the 5 surviving accomplices were to land on British soil, the UK would detain and Argentina immediately demand extradition.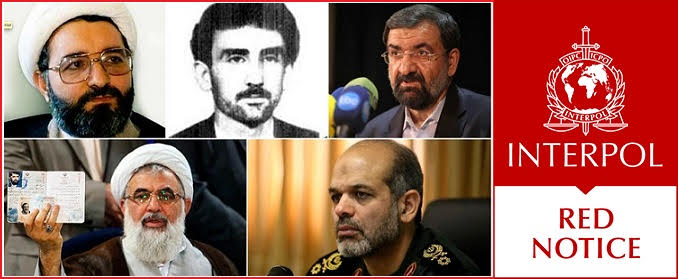 Photo AMIA bombing Iranian suspects under Interpol red notice.
- As a result of our identification of two WW2 graveyards of Nazi mass murderers in Normandy on a list of WW1 cemetery sites, France appointed us as its research partner in it's World Heritage Project. A follow-up resulted in France and Belgium abandoning the initiative.Examples of our successes:
United Kingdom
- In partnership with the UK Lawyers for Israel (UKLFI), our call for Eurovision to disqualify Iceland's entry at the Tel Aviv International Song Contest, led to a warning regarding its representative's song based on hate anda warning of disqualification if repeated.- The launching, with the Henry Jackson Society, of the Arabic edition of "Antisemitism: The Generic Hatred", laureate of the New York Jewish Book Award for Collections. Following the English, French, Spanish, Russian and now Arabic edition, each version focuses on the regional language reader.


Book "Antisemitism: the Generic hatred" in 5 languages.

- The relationship with the Henry Jackson Society began with the anniversary of the Wannsee Protocol, drafted in 1942 by Adolf Eichman, listing the 33 countries where the total of 11 million Jews were marked for extermination, These included the 300,000 of the United Kingdom.

- The display of our exhibition, "People, Book, Land: The 3,500 Year Relationship of the Jewish People with the Holy Land" in the House of Lords and then at JW3. The panels stress the Jewish gift to humanity of a code of ethics, human rights and the rule of law.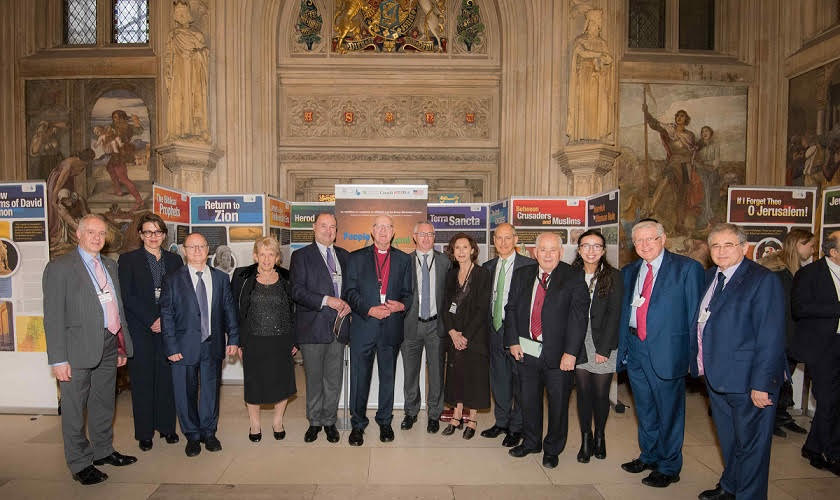 Inauguration of our exhibition "People, Book, Land..." in Parliament.
- The annual Simon Wiesenthal Memorial Lecture, among whom addressed by Anthony Julius, Ed Gaffney, the late Robert Wistrich, Melanie Phillips, Lord Pickles and, this year, Lord Mann.
France
- Our intervention convinced French President Emmanuel Macron not to honour Philippe Petain as a victorious WW1 General, but to condemn him as WW2 head of collaborationist Vichy.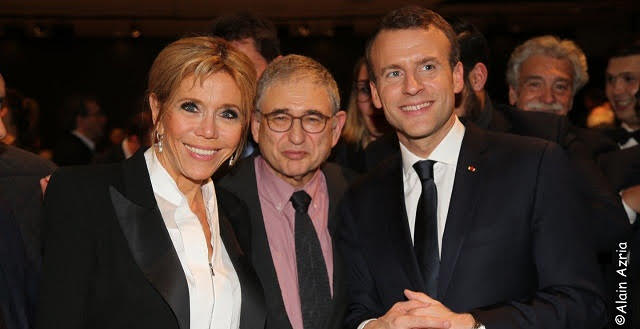 Shimon Samuels with Brigitte and Emmanuel Macron.
- Our call to the French Justice Minister to investigate judicial treatment of antisemitic murderers - as in the brutal case of Dr. Sara Halimi - as "unfit to stand trial due to marijuana intoxication", led to a police reconstruction of the murder and a since rejected rethinking of the policy.
- Another overture to the French Justice Minister reopened a dismissed case against Holocaust denier, Alain Soral, and a new trial.
- We exposed the infiltration of French neo-Nazis in the "Yellow Jackets" movement. A meeting led by Soral in a suburban warehouse resulted in many Yellow Jackets condemning antisemitism, especially after an attack on French Jewish intellectual Alain Finkielkraut
.- Our work with a French Prefect led to cancellation of the Paris suburb Gennevilliers Mayoral decree recognising the "State of Palestine".
- Paris Airport Galeries Lafayette outlet's scandalous receipt, placing Ben Gurion Airport in "Occupied Palestine", led to changes in the software supplier and an apology from the sales management.
- Agence France Press was persuaded to correct a biased Middle-East map on their website that did not include Israel.
Belgium
- Our ongoing protest against the Aalst Carnival antisemitic floats focused on the Carnival's Intangible Cultural Heritage Status of UNESCO. Working with the Austrian delegation, Aalst was de-listed at the December conference on Cultural Heritage. We will be monitoring the 2020 Carnival.


Aalst Carnival reproducing Nazi-era stereotypes.
Germany
- Following our discovery that a network of youth recreation centres printed on ping-pong paddles the letters "JEW HH" We were told by camp officials that this was an abbreviation of their sponsor JugendErholungsWerk Hansestadt Hamburg = JEW HH. We responded, "one is struck at first glance by the wording on the website. Every year, with the JEW over 1,200 children from all over Hamburg go on holiday and the JEW organises holiday camps for children. We advise that your logo,' JEW HH' could send the wrong message to 'refugee children' and their families among whom antisemitism is a known factor." The problematic logo has since been replaced.
Switzerland
- A Teacher Training seminar in Lausanne bent on the delegitimization of Israel was postponed until the panel was forced to include a pro-Israel speaker.- Booking.com deleted from their website list a Swiss Resort Hotel for blatant antisemitism.
Monaco
The State Minister has granted us access to the Principality's wartime archives relating to spoliation of Jewish assets and deportation to Auschwitz. We hope to thereby identify families of victims for indemnification.
_ _ _ _ _ _ _ _ _ _
The Lord took us out of Egypt with a 'clenched fist' and 'an outstretched arm', the 'carrot' and 'the stick'.
- Our programme to achieve World Heritage status is an example of 'soft diplomacy' - the carrot. This is ongoing for three historically successful Jewish Refugee absorption sites: 1898 Moises Ville Argentina, 1939 Sosua Dominican Republic, 13th Century "Mountain Jews" of Qirmizi Qesebe in Azerbaijan.
- We are the only Non-Governmental Organisation (NGO) to annually monitor, expose and condemn hate on the shelves of 7 Arab International Book Fairs: Riyadh, Muscat, Doha, Abu Dhabi, Sharjah, Casablanca and Cairo. As a result, the United States withdrew their stand from the Cairo Book Fair. Our findings lead to blacklisting recidivist Arab stands at the world's largest fair in Frankfurt where, this year we were invited to display our exhibition, "People, Book, Land: the 3,500 Year Relationship of the Jewish People with the Land of Israel", held a few paces from the Iranian stand.


Recurring books present at the book fairs we monitor: from Mein Kampf to conspiracy theories to incitement to Jihad.
_ _ _ _ _ _ _ _ _ _ _ _ _ _ _
In 2019, we have made 107 interventions of which 36 (34%) resulted in positive change. We look forward to constantly raise that threshold.

With thanks to the Trustees of Simon Wiesenthal - UK. Wishing a healthy and tranquil Pesach to our Jewish and Easter to our Christian members and friends.
Shimon Samuels
Director for International Relations
Simon Wiesenthal Centre