Cordoba, Argentina, 30 November 2017
Based upon the existing partnership between Benedetto Zacchiroli, President of the European Coalition of Cities against Racism (ECCAR) and Dr. Shimon Samuels, Director for International Relations, the Wiesenthal Center was invited to attend the LAC Coalition meeting in Cordoba.
Zacchiroli stressed "the danger of increasingly recurrent antisemitism. This is a door we must close." He highlighted the work of the Simon Wiesenthal Center and its international network as a significant alliance in the objectives of the UNESCO-related "Cities against Racism."
Present were Samuels and Dr. Ariel Gelblung, the Center`s Latin American Representative, who made presentations on its joint programmes with the Organization of American States (OAS) and the Latin American Parliament (PARLATINO) on "Racism in Sport."
Its campaign on World Heritage status for Moises Ville, the Argentine village established by Baron Hirsch, in view of its role for inter-cultural harmony and its annual "Dia de la Convivencia" (Coexistence Day) was also presented for adoption.
LAC President, Daniel Martinez, Mayor of Montevideo, Uruguay, endorsed both the Sports and Moises Ville initiatives.
"We were thrilled at the welcome received by the Center from the LAC Coalition and we also discussed bringing to its member-cities our exhibition "People Book Land: the 3,500 Year Relationship of the Jewish People with the Holy Land," declared Samuels.
"Municipalities have a vital role to play in combating racism and we look forward to a close working relationship with LAC," added Gelblung.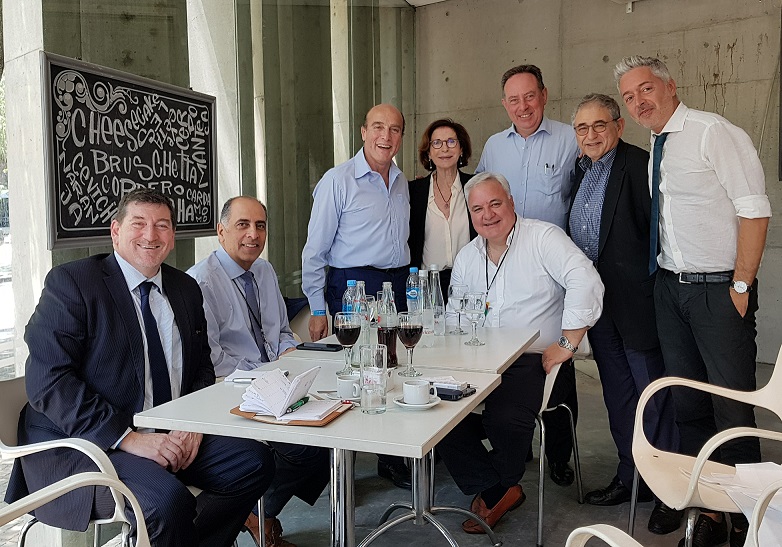 From Left to Right: Dr. Ariel Gelblung; Nelson Fernandez, LAC Coordinator; Daniel Martinez, LAC President; Dr. Graciela Samuels, UNESCO; Ernesto Beltrame, LAC Director; Alvaro Barba, Uruguay Consul in Cordoba; Dr. Shimon Samuels; Benedetto Zacchiroli, President of ECCAR.