"Twenty-four Holocaust survivors, each matched with a top chef, cooking a favourite family recipe from an almost extinguished Jewish gastronomy… rescuing an inter-generational heritage from the jaws of the Holocaust."
Paris, 29 May 2017

The Simon Wiesenthal Centre's Director for International Relations, Dr. Shimon Samuels, congratulated Tami Shachnaey of "Shorashim" (Roots) – the Israeli non-profit that aids Holocaust survivors and Ethiopian immigrants – for its triumph in the Gourmand International Cookbook competition yesterday in Yantai, China.

Link to the award ceremony film:
https://www.facebook.com/ShorashimGroup/videos/1429910457044412/
Shorashim's "Grandma Cooks Gourmet" won the "Best Cookbook in the World" title, placing Israel third among 9 shortlisted countries and "Grandma" piled up an additional prizes in the non-profit category.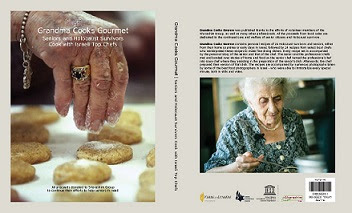 Page 2
"Thanks go to all the volunteers who drove participants to restaurants and markets.
Thanks to the Samuels family, who are affiliated to Verbe et Lumiere-Vigilance,
the Simon Wiesenthal Centre and UNESCO, and accompanied the project,
donating generously towards its publication."
The book brings together 24 Holocaust survivors, each matched with an Israeli top-chef, each pair cooking a favourite family recipe from an almost extinguished Jewish gastronomy.

The Wiesenthal Centre and its associate French educational foundation, Verbe et Lumière – Vigilance, co-sponsored both the original Hebrew and the English editions.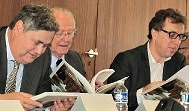 Left to right: Pierre-Francois Veil President Yad Vashem-France, Eric de Rothschild President Memorial, Richard Odier President Verbe et Lumiere-Vigilance
Over 11,000 copies have been sold through volunteer outlets, including laundries, clothing stores and other participants – all funds to support indigent and lonely survivors.
"A cookbook that celebrates food is a powerful metaphor for survival and a zest of life that challenges the culture of death and terror now surrounding us", observed the Centre.

Director-General Irina Bokova, in the spirit of UNESCO's concept of "intangible heritage", endorsed the project as the volume is unique in rescuing an inter-generational heritage from the jaws of the Holocaust.

Samuels also thanked Frankfurt Book Fair Director, Jurgen Boos, for his introduction to Gourmand International founder, Edouard Cointreau, who encouraged Shorashim to compete for this prestigious award.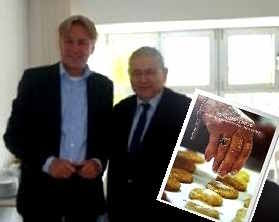 Left to right: Jurgen Boos and Dr. Shimon Samuels
Cointreau had shared with the Wiesenthal Centre "his search for cookbooks that imbued hope and tolerance, bringing people together."

"Apparently 'Grandmas Cookbook' met his match", concluded Samuels.

For further information, contact Shimon Samuels at csweurope@gmail.com
or Tami Shachnaey at tamilove@gmail.com.
Messages of support to Shorashim will further energize the survivors and volunteers.