"Reconciliation is valid for WWI - Not so for WWII."
"The World Heritage Committee professional advisors must examine every military cemetery and shrine to identify any mines along the road to World Heritage status."
Manama, Bahrain, 29 June 2018
Belgium and France are jointly presenting for UNESCO World Heritage status: "Funerary and memorial sites of the First World War" - 139 sites along the 1914-1918 Western Front, holding the remains of tens of thousands of soldiers of several nationalities."
The French cemeteries are respectfully noted for religious markers: the Cross, the Crescent, the Star of David, and a stylized stele designed for agnostics and other faiths. Most of the 56 French cemeteries are a mix of nationalities, also marked for both French and German fallen. Listed are 22 German, 3 American, 8 Belgian, 4 Canadian and one graveyard for each of: Portuguese, Czechoslovak, Italian, Romanian, Danish, Russian and Irish.
"The Wiesenthal Centre accepts the concept of honouring mixed graveyards of all belligerents from both sides of the trenches. That is valid for World War I... Not so for World War II," argued Dr. Shimon Samuels, the Centre's Permanent Observer to the UNESCO World Heritage Committee (WHC) and its Director for International Relations.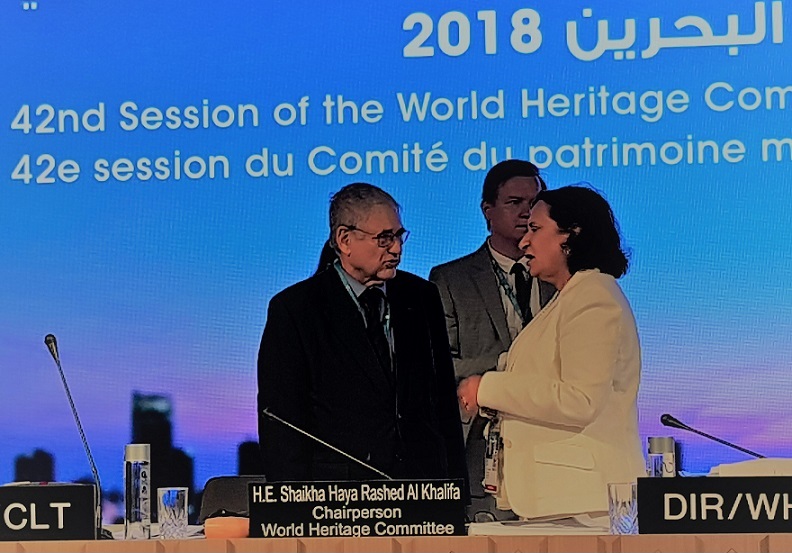 Shimon Samuels with Sheikha Haya Rashed Al-Khalifa,
President of the World Heritage Committee in Manama, Bahrain.
Samuels stressed, "it is unthinkable for the armies of Hitler to be honoured in common graves with Allied units fighting to save Europe from the Nazi German 'Gottedammerung'... There can be no absolution for Wermacht murder squads, Waffen SS or Gestapo, no reconciliation between the 'Sons of Light and the Sons of Darkness.' "
"Yet, in June 1994, on the 50th anniversary of the Normandy landings - D-Day - French President Mitterand was to invite President Clinton and Queen Elizabeth II to lay a wreath at the Deutscher Soldatenfriedhof (German Military Cemetery) at La Cambe," recalled Samuels.
The Wiesenthal Centre exposed an outrage: the perpetrators of the 1941 massacre at Oradour-sur-Glane - 642 men, women and children villagers burned alive - the "Das Reich Division," were buried at La Cambe.
Samuels urged the WHC professional advisors of ICOMOS, "to examine every graveyard listed among the Franco-Belgian candidates, so that no similar 'hidden bombs' be discovered," adding, "we can, in fact, already identify one site of dubious validity: the Tour Yser in Diksmuide, Belgium."
"From a WWI shrine for Flemish nationalists, the Tour, since the 1980s, became an annual summer gathering for neo-Nazis, Skinhead concerts, Holocaust denial and hatefests against Jews, Muslims, migrants and Gays..."
"The Wiesenthal Centre is ready to assist the WHC to identify any 'mines' along the road to UNESCO World Heritage status," concluded Samuels.