"Last year, your Chargé d'Affaires in Cairo closed the American stand on the basis of our report... We urge you to make clear to the authorities that there will be no United States stand in 2021, unless CIBF is hate-free."
Paris, 2 February 2020
In a letter to United States Ambassador to Egypt, Jonathan Cohen, the Simon Wiesenthal Centre Director for International Relations, Dr. Shimon Samuels, noted that, "We monitor the shelves of six Arab book fairs annually for incitement to hatred and violence. We send our findings to the Frankfurt Book Fair, where measures are generally taken to denounce and ban the listed offenders, who violate the contract signed with Frankfurt."
The letter recalled that, "Last year, the US Chargé d'Affaires in Cairo, Thomas H. Goldberger, responded to our report on the CIBF's antisemitic texts on display, stating: 'On receipt of your letter, I immediately contacted the Egyptian Government, on the phone and in writing, to protest the presence of antisemitic materials at the CIBF and to demand that it take immediate action to remove the materials.'... 'I also instructed my staff to close the Embassy's booth at the CIBF, and we will not reopen,'... 'and I have also brought this matter to the attention of the Department of State'."
The largest display of Jew-hatred is annually found at the recidivist stand of Egyptian publisher "Dar Al-Kitab Al-Arabi" (see their Facebook page video presentation of the CIBF 2020 stand).
https://www.facebook.com/darelkitabelarabi/videos/216482112719328/?tn-str=k*F
This year, its offerings included: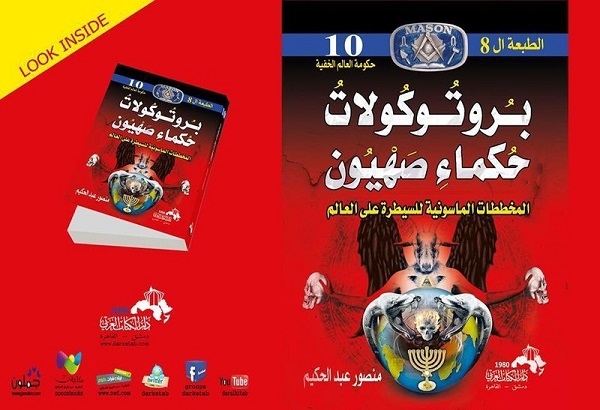 The Protocols of the Elders of Zion: Masonic Plot to Dominate the World,
by Mansour Abdel Hakim.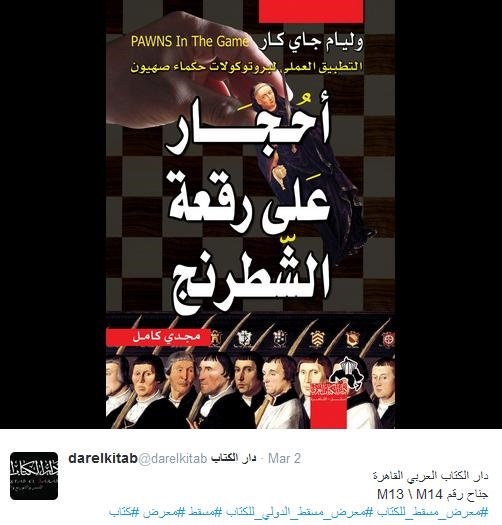 Pawns in the Game: The Practical Implementation of the Protocols,
by William Guy Carr (translated by Magdy Kamel).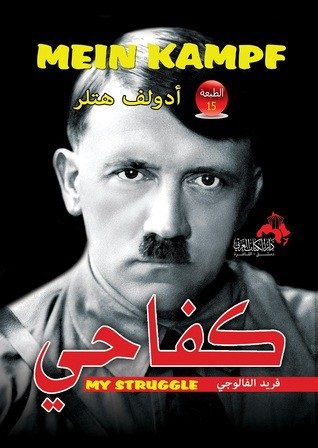 Mein Kampf, by Adolf Hitler (edited by Farid Al-Falluji).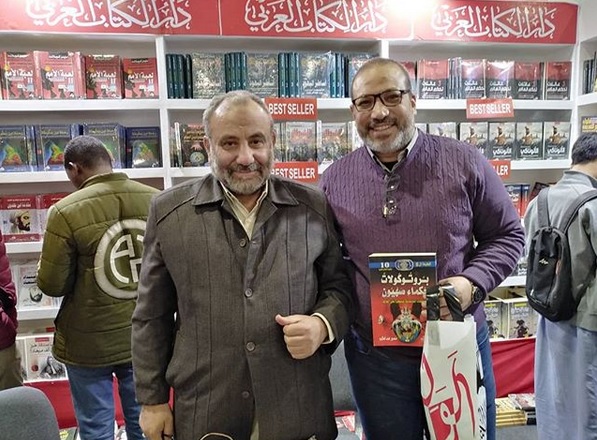 Mansour Abdel Hakim (left), author of the adaptation of
the Protocols of the Elders of Zion, with a guest holding the book.
The letter added: "The 2020 Cairo Book Fair's Laureate was Gamal Hemdan. In 1967, he published The Jews Anthropology, in which he argued that 'contemporary Jews who claim to belong to Palestine are not the descendants of the Jews who left Palestine'."
"Mr. Ambassador, apparently your Embassy put out a congratulatory press release, stating: 'It was a pleasure to welcome Minister of Culture Ines Abdel-Dayem to the U.S. Embassy booth at the Cairo International Book Fair. Egypt has long been a center of culture and history and can be proud of the annual Cairo International Book Fair, the oldest and largest fair of this type in the Arab world. The Book Fair is a really special event',"
Samuels observed, adding, "While no action was taken by the Fair authorities against Dar Al-Kitab Al-Arabi for its antisemitic texts, they did close the stand of the prominent Egyptian publisher, Khaled Lotfi, who had received a five-year prison sentence for publishing The Angel, the story of Ashraf Marwan - the high ranking Egyptian official who spied for Israel - now a Netflix film."
The letter continued, "We are aware of your initiative that the Embassy pay for the preservation of the 1200 year old Bassatine Jewish cemetery in a Cairo suburb. Sadly, many Jewish cemeteries around the world are desecrated due to such incitement as the books displayed at the Fair."
The Centre urged the Ambassador "to make clear to the authorities that there will be no United States stand in 2021, unless CIBF is hate-free."