"What began in Europe as a campaign against racism in football was adapted in Latin America to include all sport."
Panamá City, 24 November 2017
Wiesenthal Centre Director for International Relations, Dr. Shimon Samuels, and Latin American Representative, Dr. Ariel Gelblung, attended the unanimous endorsement of its "11 Point Program against Racism in Sport" by the 23 member states´ Congresses at the 34th Assembly of the PARLATINO (Latin American and Caribbean Parliament) in Panama City.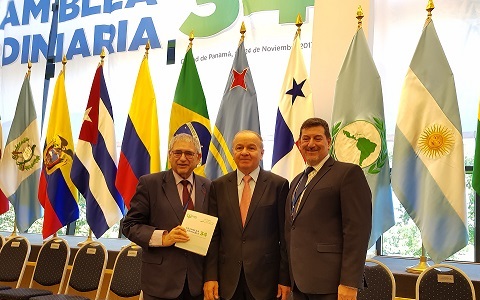 L-R: Shimon Samuels, Parlatino President Elias Castillo, Ariel Gelblung.
The resolution – based on "The 10 Point Program" of the European Parliament and in a partnership, reached in June 2017, with 35 member state Organization of American States (OAS) – reads as follows:
"The Latin American and Caribbean Parliament resolves to: Support the "11 Points against Racism, Discrimination and Xenophobia in Sport", program conceived by the Simon Wiesenthal Center, urging the member Parliaments to promote its application in their national legislation and adoption by the sports federations and associations of their respective countries…. I hereby certify the above Declaration was approved unanimously in this session of Executive Board in Panama, on 23 November 2017, Humberto Pelaez, Executive Secretary, PARLATINO."

L-R: Shimon Samuels, Executive Secretary Humberto Pelaez, Ariel Gelblung.
What began in Europe as a campaign against racism in football was adapted in Latin America to include all sport.
"The Simon Wiesenthal Centre, as the only Jewish organization accredited to the PARLATINO, leads the campaign to rid football and other sports of incitement to all forms of hatred and violence at national, regional and international levels – most recently at FIFA (the International Federation of Football Associations) in Zurich," explained Samuels.
"The PARLATINO has now provided a legal instrument to combat racism and antisemitism throughout Latin America and the Caribbean and highlights best practices across the region," added Gelblung.
The Center´s officials were received by the Yitzhak Rabin School, where they were pleasantly surprised to meet the student Eitan Perelis, who presented them his class assignment on "Hate in Sport".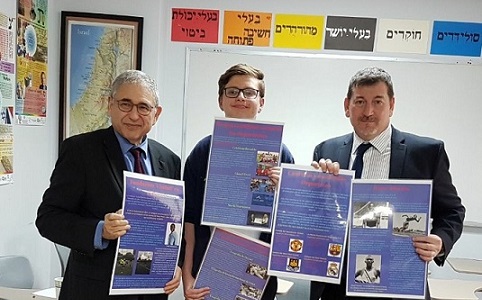 L to R: Samuels, Eitan Perelis, Gelblung.